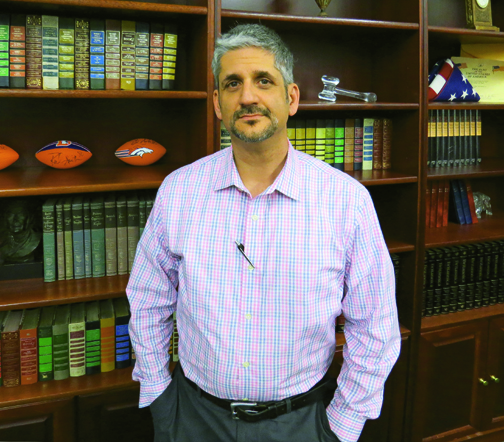 by Mark Smiley
Step 13 has hired only its third Executive Director in 30 years, Paul Scudo. Scudo who had served as Director of Programs the last two years was hired after the search committee narrowed down the field of candidates to 12. He officially began his role in October 2016, but he was serving on an interim basis since last June. Peter Droege who was the Executive Director left the organization in May 2016.
For more than 30 years Step 13 has helped men overcome addiction and become contributing members of society through a "tough love" residential program that requires sobriety, work, and accountability. There is a zero-tolerance policy for drinking or drug use, and work is required from day one in the program.
The organization was founded by Bob Coté and his legacy lives on at the organization. Scudo not only acknowledges this, he embraces it. "We are privileged that for years Bob broke his back and did whatever it took to keep the doors open, help men out, and get the name Step 13 out in the community, and generate a donor base," said Scudo.
Scudo was born in Philadelphia, and lived there until he was 16 when his parents moved to Charlotte, N.C. After graduating high school, he went to Michigan State University and got a degree in Hospitality Business. It is here where he met his two best friends who eventually saved his life and put him on the path to recovery. He moved to Denver and worked for the Hyatt Hotels Corporation and then the Hilton Worldwide Holding as Regional Director of Sales and Marketing.
It is in this position where Scudo made a comfortable living. He had an attractive home in Park Hill, with a loving wife, and for those who knew him, a pretty good life. But, Scudo kept a dark secret. He had become addicted to cocaine and alcohol and his addiction took a turn for the worse starting in 1998.
Five years later, in 2003, he was arrested for possession of narcotics and put into drug court. Even with the possibility of having a felony on record and going to jail, Scudo could not stop using drugs.
He continued to test positive on court ordered probation tests. The court would put him in jail for two days once a month for four years. Because Scudo showed up in a business suit and made seemingly valid excuses, they would continue to give him opportunities.
Finally, those opportunities would run out as his excuses were no longer accepted. In 2007, the court finally revoked deferred judgment, charged Scudo with a felony, and sent him to jail for six months. His 18-month probation that stretched to four years now converted into jail time.
After losing his job and serving his sentence, his first phone call after being released from jail was to his drug dealer. With no job and no income, but with a large amount of money in savings, a 401K, an IRA, Scudo became a hermit in his Park Hill home. He burned through $200,000 in 18 months, stopped paying the mortgage and all other bills, aside from the phone bill, so he could contact his dealer.
After the mortgage company and police officers came to his door and warned him to pay his mortgage or be evicted in 30 days, Scudo turned to doing more drugs.
After 30 days had expired, police officers came into his home and told him he had 10 minutes to gather what he could.
"I never, in my mind, believed I was going to lose everything," said Scudo. Every other possession he had accumulated in his 40 years on the planet was thrown in a dumpster.
All of a sudden, Scudo was homeless. Over the next two years, he would hide in alleys and wooded areas. He would only go to populated areas to steal food from a grocery store or to get change to get a bottle of alcohol so that he could drink and numb the pain.
After being on the streets for two years, Scudo describes what was a spiritual intervention. He was in an alley and his two best friends from his days at Michigan State University came down the alley and said, "We finally found you, are you ready for help?" Scudo looked up at them and said yes but he couldn't afford it. They told him they had it taken care of.
They put him into a drug addiction treatment center called CeDAR. CeDAR is integrated into the University of Colorado Hospital and is an expensive treatment facility. Scudo remained at CeDAR for three months.
He then moved to the Oxford House, a sober living home. He remained at the Ox-
Continued on page 15
Continued from page 5
ford House for a year and found it difficult to find work. A friend from his alcohol recovery fellowship group who owned a handyman business hired him to be his assistant. He worked for him for a year and started to volunteer at CeDAR.
His volunteer work would eventually lead to a full-time position as Recovery Care Manager at CeDAR after more education. He worked at CeDAR for three years and during this time was asked by the Anschutz Foundation (who funds both CeDAR and Step 13) to speak to the men of Step 13. Scudo volunteered for six months at Step 13 until one day Droege and then Board Chair Wendy Bergen pulled Scudo aside to ask if he would be willing to build a recovery program.
After volunteering to launch this program, it became clear it was going to take more of a full-time effort. Scudo was then hired in 2014 to be the Director of Programs for Step 13. "There was something in my heart telling me to do this," Scudo said.
"I have a picture of Bob [whom he never had the chance to meet] on the wall in my office and I look at it every day to remind me I am lucky that he did all the really hard groundwork to get this organization where it is, and staying true to three key principles: sobriety, work, and accountability," said Scudo. "While there's been some change, the core philosophies remain the same. We are going to remain true to Bob's original principles and we still believe accountability, self-sufficiency, partnered with work and individual recovery is how an individual restores their dignity and self-worth. We are going to help as many men as we can."
Matthew Saks, chair of the board of Step 13 commented, "Paul Scudo is the ideal leader to take Step 13 into the future. He brings to this work so many important qualities: a deep sense of personal integrity, an understanding of nonprofit organizations and, most importantly, a profound passion for helping men in their struggle with addiction. In his work as program director, he has already transformed our recovery program into a national model for success. Having him in place as Executive Director ensures our organization's sustainability and impact for many years to come."
Scudo now lives with his new wife of four years, Cynthia, who has eight grown children and 20 grandchildren. Scudo, now 50 years of age, is appreciative for all of the gifts in his life. "I've changed the way I live my life," said Scudo. "[It's] about being of service and caring for other human beings. [It's] how I interact with the average person I come in contact with."
Scudo has a vision of where to take Step 13. He wants to open sober living homes and give men that are living at Step 13 that next step. He would also like to open up more Step 13 facilities across the state to help men in need.
"I'm humbled and I'm grateful for the opportunity to lead Step 13 into the future and in doing such, I'm going to stay true to Bob's principles."
Scudo is active in an alcohol recovery fellowship as a world delegate. He also enjoys camping, hiking, golfing, reading, bike riding, and movies. For more information on Step 13, visit www.step13.org.