by Ruthy Wexler
Early in the morning of October 19, Hilltop resident Denise Gibbons observed city workers removing the 2-hour parking limit signs from her street. Alerted, neighbor Joanne Davidson dashed out to inspect the 500 blocks of Albion, Ash, Bellaire and Birch, only to discover that every single 2-hou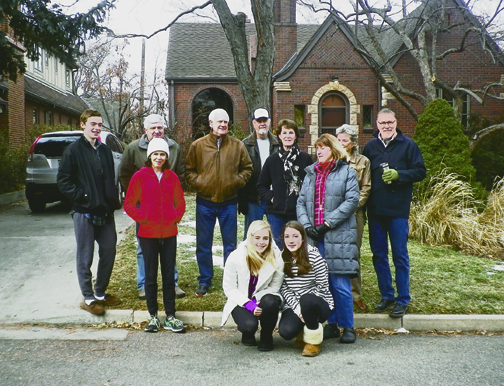 r parking limit sign was gone.
Two months before, residents had received a letter, dated August 8, 2016: "Parking Operations has determined that it is appropriate to remove existing 2-hour restrictions [in Hilltop neighborhood] …."
But since the letter concluded, "We encourage all households to provide feedback in support of or in opposition of [sic] the proposed time changes," residents thought they could make their case.
"I don't know for sure how many people communicated their displeasure but every last one … on my street did," Davidson said. Lee Johnson drafted a petition to keep the signs in place; everyone on his block signed it. "It strikes me," Johnson wrote, "that unanimous opposition … should be given significant weight."
Residents believed the city was open to their input and might be willing to reverse their decision to remove the signs. However, they soon learned that the city was unwilling
The 2-hour parking limit signs were installed in the Hilltop area in the early 1990s, when inadequate parking at the University of Colorado Health Sciences campus at 9th and Colorado, plus their policy of charging employees to park, caused increasing numbers to seek out residential streets.
"We were a parking lot for the hospital," recalled Joan French, who has lived in Hilltop for 44 years. "It was a nightmare." One resident recalled asking a driver to park closer to the curb; the young man yelled, "I'm late to class!" A doctor, answering an emergency call, had to drive over her own lawn when a strange car blocked her driveway. Residents routinely called police to tow cars.
For almost 25 years, Hilltop felt protected by the signs. Now, they asked Councilwoman Mary Beth Susman to convene a meeting. On Nov. 29, three representatives from Parking Operations, Alyssa Alt, Sean Mackin and Cynthia Patton met with approximately 20 residents (many still away for Thanksgiving) and explained that according to their studies, the neighborhood did not exhibit 75% occupancy of parking spaces, the criterion for adding parking restrictions. ("The study was done when the signs were still in place!" French exclaimed.) And since CU Hospital complex had moved to Aurora, there were no longer "parking impacts" from the 9th and Colorado site.
But something new was being built on that 26-acre site, residents pointed out — a development containing shops, apartments, parks and restaurants. Until the effects of the complex were seen, couldn't the signs stay in place? The cost of enforcing them is too expensive, said the parking people. Residents suggested just keeping the signs, not monitoring them. No, Patton said, but assured residents that the signs, if needed, could be easily reinstalled since workers removed only the center posts.
Susman, who lives in Hilltop, believes that Parking Operations would reinstall the signs if warranted. "Neighbors panicked when the signs went down," she said. "I understand the fear, we lived with Colorado University Health Sciences Campus … but I don't think it's necessary now."
"At that meeting, we were basically told our feelings didn't count," said Davidson, who felt, with others, that communication had broken down. The August 8 letter stated that residents had requested the signs' removal, which many found hard to believe. Davidson surveyed numerous neighbors "and not one said they wanted the signs gone." Joan French heard that Parking Operations claimed the principals of the area's two schools, Streck Elementary and Hill Junior High, had requested the signs' removal; Parking Operations denied they ever said that. Nancy Kuhn, Communications Director for Denver Public Works, explained that the office had been in touch with the schools only to help manage traffic overflow. Hearing a rumor that paid parking would be installed in the new development, unsettled residents wondered: is the developer involved?
"I'm very surprised at that question," said Frank Cannon, of Continuum LLC, the firm in charge of the 9th and Colorado project. "Of course not. … The idea that any discussion about parking is going on behind closed doors to remove signs I didn't even know about is disheartening to me as a developer. I've made extensive efforts to reach out to the community.
"Do we have adequate parking? Absolutely, for every square foot," Cannon stated. "We'll have metered parking along the streets inside our development. We'll have more than 2,500 off-street spaces all in garages."
Asked whether customers or workers will pay to park in the garages, Cannon said, "At this point, we are not assuming paid parking."
The new development is not the only reason residents want the signs back. The quiet streets of Hilltop are surrounded by urban growth. Lee Johnson explained, "The 2-hour restrictions [in Hilltop] provided ample parking for people coming and going to the nearby schools … an appropriate balance of the needs of individuals to park [with] the desire to reduce long-term parking, with its attendant concerns about traffic and safety, in a residential neighborhood."
Kuhn pointed out that Parking Operations has a wide range of responsibilities. "We work to adjust or remove restrictions so that on-street parking, a valuable public asset, is available for users." She added, "Once redevelopment has occurred at [9th and Colorado], we'll have a better sense … what management strategies are needed."
In this tug of war between rigid formulas and subjective experience, Hilltop residents offer what they feel is common sense. "They said it was a big cost to enforce the restrictions," French said, "but when one considers how much money has been spent on meetings, postage, crews to remove the signs …"
Protecting the neighborhood is a win/ win, residents feel. "If cars start parking every which way like they used to, property values go down and the City stands to lose," said French. "The City should be leading the charge for historical preservation and maintaining our neighborhood's integrity.
"I believe it is very short-sighted of the City to take those 2-hour signs down," French said. "It would cost nothing to keep them in place."