by Megan Carthel
On Dahlia Street between Mexico and East Colorado Avenue, sits a house built in 1954. The architecture fits the rest of the neighborhood except for one obvious thing — the house is blue, very blue.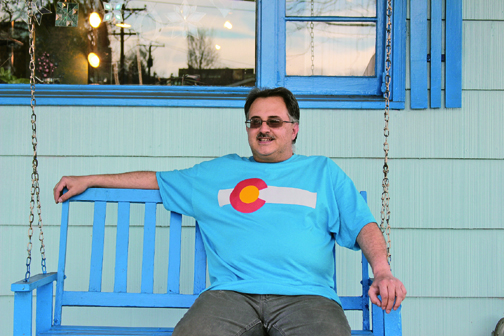 James Reyes, the blue home's owner, has lived there since 1996. When he purchased the home, it was white with a salmon-pink trim, something he needed to change right away to suit his style. The self-described old hippie painted the outside of his new house back in the '90s a bright, light blue with a darker and brighter blue trim.
"When it snows, and it's all white it looks really good," Reyes said.
Even the porch swing is matching blue, and the two vehicles parked in the driveway are blue. He calls the color of his car a "pearlized blue." The only part of the exterior of the house that is not blue is the concrete walkway that leads up to the light and dark matching blue door. It looks like no other house on the block or for that matter, in all of Denver.
The inside has just as much blue. A bright blue and green finish covers the walls. The couch has a blue cover with blue pillows. The kitchen table has blue, denim placemats and a blue glass of water. His shelves are lined with blue trinkets, from blue cats and vases, to a blue Frosty the Snowman. Even his reusable grocery bags and lunchbox are, of course, blue.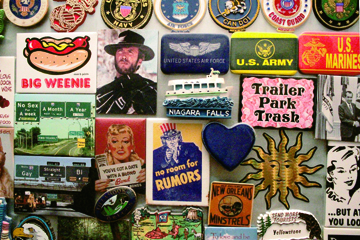 "Lots of guys like blue," Reyes said.
The bedroom is a light blue with a blue bed cover and pillows with blue art on the walls. His office is a little different with a hint of yellow on the walls that are covered with Reyes' other collection — magnets. He loves to travel and picks up a magnet everywhere he's gone. In fact, his last state to visit will be Alaska this summer — even the cruise he's going on is having a "blue party." The ceiling in his office is painted like the sky, blue with clouds.
"I see blue in the sky and the clouds, and that's where I see a lot of beauty is in the sky and clouds," Reyes said. "That's a test to how you are in your mind. Do you look up at a cloud and see beauty or do you just see nothing?"
For him, blue is calming, comforting and sets his soul on "fire."
"There's no sadness in my blue. It's happiness. In tha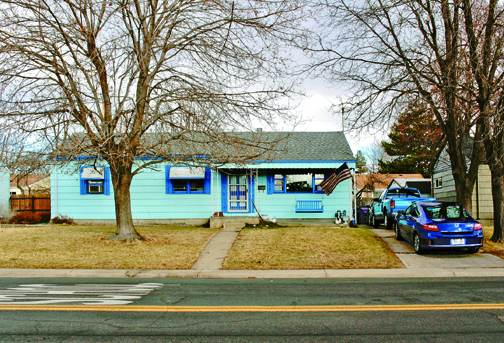 t color when you look at it, there's a deep beauty in it. It lights my soul on fire," Reyes said.
His garment rack is full of blue shirts, and his bike is blue. However, Reyes said he's been toning it down now that he's older. When his partner moved in 18 years ago, Reyes said he noticed just how blue he really was.
"There was so much blue that when Charle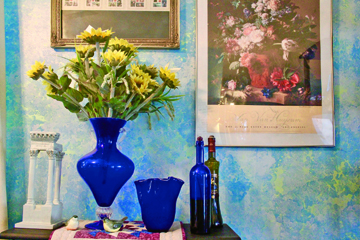 s moved in he was like 'what's wrong with your dryer?'" Reyes said. "It was completely blue on the inside from all of the blue clothes. It [the clothes] had made it blue on the inside and I was like oh my God you're right!"
So Reyes recently repainted his kitchen to a metal-red, but the blue is not lost with a blue kitchen appliance on the counter and blue knick-knacks dotted throughout. His basement was never blue, but he does have a blue strobe light and accessories.
Reyes said his affinity with blue got started when he moved to Colorado in 1986. As a kid, he never remembers loving blue as much as he does today. At 21, Reyes moved from Wyoming to Denver, bringing with him the only thing he can think that might have ignited his passion for blue — an Austin Powers-esque round, blue velvet bed. The next blue purchase he made was a blue vehicle, and the rest is history. For one brief point when he was younger, Reyes even had blue hair. He said all the blue is just a part of who he is.
"I think it's me, and I don't care if people don't like it because life is 18 holes of golf and you don't get any do-overs so it doesn't matter what other people think. Just do what you want, but in reason of course," Reyes s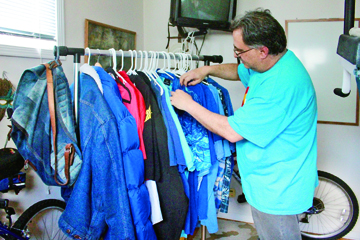 aid.
While Reyes loves every shade of blue, lapis blue has a particular look to it that Reyes just can't ignore.
"When I feel blue, I feel this," Reyes said as he opened up a wooden box in his office to show off a stone necklace and ring that best represent the deep, rounded and bright shade of blue.
"When you look at that blue do you feel beauty? More so than my light blue. This blue, like cobalt blue, this blue lights the heart on fire. It lights the soul," Reyes said.
Blue brings Reyes happiness, comfort and anything but sadness.
"I don't feel blue. I'm a doer. I'm a shaker," Reyes said. "It's just me, and I'm not afraid to shove it in people's face."