Spring Flings And Easter Things Such As To Dye For Eggs And Scrumptious Spring Lamb

On Easter Sunday, April 16, something unusual is happening once again as two Easters are being observed on the same Sunday. In most years Western Protestants and Catholics celebrate Easter on one Sunday and the Eastern Orthodox Churches including Denver's Greek Orthodox Cathedral in Glendale celebrate about a week later.
This year, however, the Eastern Orthodox Easter coincides with the Western Protestant/Catholic Easter. The rare occasion is due to the alignment of the Gregorian and Julian calendars. Next year (2018), for example, Easter Sunday is April 1 for Western Christianity — Roman Catholic, Anglican Communion and Protestant Churches — but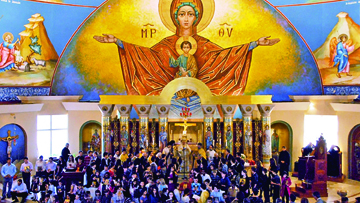 not until April 8 for Orthodox Christianity and Eastern Orthodox Churches
The theological inconsistency of two Easters has remained a thorny problem for Christian Churches. Eastern Orthodox Churches apply a formula so that Easter always falls after Passover, since the Crucifixion and Resurrection of Christ took place after he entered Jerusalem to celebrate Passover. In Western Church, however, Easter sometimes precedes Passover by weeks.
Relation To Passover
Passover, or Pesach in Hebrew, is the holiday commemorating the Hebrews' exodus from slavery in Egypt. It lasts seven days in Israel and among Reform Jews, and eight days elsewhere around the world. It begins on the 15th day of Nisan, which is the seventh month in the Jewish calendar.
The frequent overlapping of Easter and Passover — the Christian Holy Week with the eight-day celebration of Passover — merits attention. Unlike the yoking of Christmas and Hanukkah, Easter and Passover are festivals of equal gravity. Side by side they bring to light the deep structures of both religions. Both celebrate spring and hope, though there are major differences between them.
Since the beginning of the 20th century, a proposal to change Easter to a fixed holiday rather than a movable one has been widely circulated, and in 1963 the Second Vatican Council agreed, provided a consensus could be reached among Christian churches. The second Sunday in April has been suggested as the most likely date.
Easter Services
Cathedral Basilica
Cathedral Basilica of the Immaculate Conception is the cathedral of the Roman Catholic Church. Located at the corner of Logan St. and Colfax in the North Capitol Hill neighborhood it is the m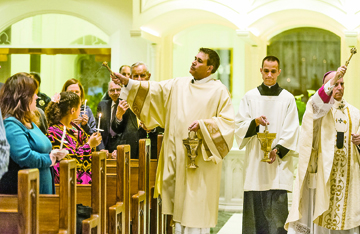 other church for the Catholic community and the Archdiocese of Denver. On Aug. 13-14, 1993 (for World Youth Day), Pope John Paul II celebrated Mass at the cathedral — one of only a few cathedrals in the U.S. so honored. Holy Saturday is April 15 with a blessing of Easter Food at 9 a.m. Easter Sunday Mass times are 7, 8:30 and 10:30 a.m. and again at 12:15 p.m. There won't be a 5 p.m. Youth Mass. Information: 303-831-7010.
Central Christian Church
Founded along the banks of the Platte River in 1873, the Central Christian Church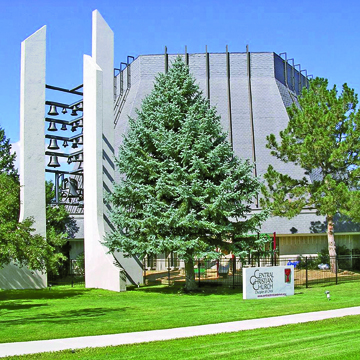 of Denver is one of Colorado's oldest congregations. The church has been housed in four different locations, moving to the current site in the Polo Club neighborhood on Cherry Creek South Dr. in 1971. Palm Sunday service is April 9 at 8:30 a.m. and again at 10:45 a.m. Adding to the community's holiday enjoyment, on Wednesday April 12 there is a special appearance at the church by the Ugandan Kids Choir, 5:30 p.m. Good Friday service will be at noon on April 14. On Easter Sunday, April 16 there is an Easter Brunch and Egg Hunt at 9:15 a.m. followed by worship service at 10:45 a.m. Information: 303-744-1015.
Red Rocks Sunrise Service
Despite cancellation due to snow last year, the 70th Red Rocks Easter Sunrise Service in Morrison, is set for April 16, 6 a.m. to 7:30 a.m. Fa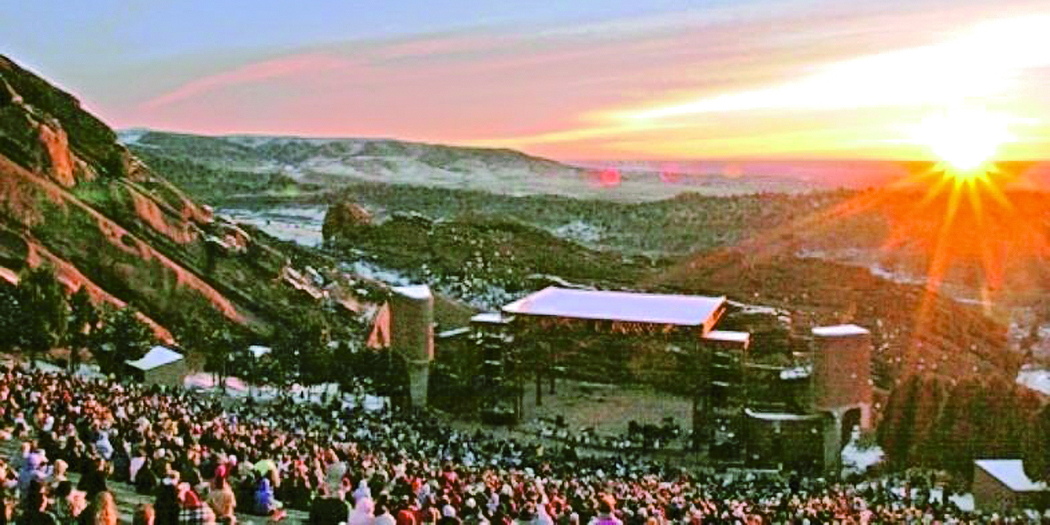 ther Michael Nicosia, Vicar of the Presiding Bishop to the Rocky Mountain Region of the Ecumenical Catholic Communion, will open the worship service with a flute meditation. This year's speaker is Bishop Jim Gonia of the Rocky Mountain Synod, Evangelical Lutheran Church of America. From 1998 to 2009 he was the associate pastor of Atonement Lutheran Church in Denver. Prior to his election as bishop, he served the ELCA's churchwide ministries as Global Mission Area Program Director for West Africa.
St. Barnabas' Episcopal Church
The cornerstone of the present church was laid on June 13, 1891. Families celebrated the most recent renovation of the iconic building at 13th and Vine St. last November. Easter Sunday Services are at 7:45 a.m. and 9:30 a.m. An Easter Egg Hunt follows the 9:30 service. There will be coffee, treats and tours of the church beginning at 11 a.m. Information: 303-388-6469.
Trinity United Methodist Church
Built in 1887, this historic church located downtown at E. 18th Ave. and Broadway will feature the Trinity's Chancel Choir at 9 a.m. followed by the 11 a.m. Easter services. There is also a Pancake Breakfast being served by the youth in the Trinity Café from 8-11 a.m. Highlight for kids is a Children's Eggstravaganza from 9 a.m. to 11 a.m. (ages two and up). Youngsters will celebrate Easter morning hearing the Easter story, making crafts, enjoying an egg hunt, playing games and eating special snacks. Information: 303-839-1493.
Passover Seder
Denver's largest Jewish congregation Temple Emanuel, located on Grape St. in the Park Hill neighborhood, is holding a First Night Community Seder conducted by Rabbi Joe Black and catered by A Perfect Pear on April 10, 5:30 p.m. Information: 303-388-4013.
Chabad/Bais Menachem on South Holly is having an Intermediate Day Passover Seder on April 15, 10:30 a.m. Information: 303-329-0213.
The Congregational Seder at Denver's Temple Sinai at E. Hampden Ave. and Glencoe St. is April 11, 5:30 p.m. Information: 303-759-1827.
Baskets & Bunnies
Bunny Trail
It's one of the finest fun festivals in town allowing the kids to hippity hop into spring.
This year's Bunny Trail — the annual Children's Museum event on the Marsico Campus — is April 15, 10 a.m.-5 p.m. It is filled with all kinds of blossoming fun including springtime art projects, face painting, tasty Teaching Kitchen samples plus meet and greets with Truffles the Big Bunny. Information: 303-561-0101.
Easter Eggstravaganza
Look for the Easter Bunny to be hopping around Glendale's Infinity Park Sports Field (4599 E. Tennessee Ave.) again this year as the free family-friendly event returns April 15, 10 a.m. sharp! There will again be three special prize eggs including the big prize Golden Egg. Families will be able to take pictures with the Easter Bunny. In case of inclement weather the event will be in the Glendale Sports Center. Information: 303-639-4711.
CHUN Egg Hunt
Hundreds of kids from Capitol Hill neighborhoods get to hunt Easter eggs and sweet treats at the Capitol Hill United Neighborhoods Easter Egg Hunt. This year's fun begins at 1 p.m. at the Tears-McFarlane House (1290 Williams St.) April 15, 1 p.m. In addition to the Easter Egg Hunt, there are refreshments, games with prizes and a chance to meet the Easter Bunny in person. Families are asked to bring their children's Easter baskets to collect the eggs. Information: 303-830-1651.
Bunny Express
Let the rock of the rails transport you and the kids into spring at the Colorado Railroad Museum in Golden April 15, 10 a.m.-4 p.m. The whole family can hop on the train, featuring the 1880s vintage passenger coach, and experience what it was like to travel 100 years ago. The Easter Bunny and Spike the Railyard Hound will be handing out candy. Information: 303-279-4591.
Bunny Bolt
You and the kids can work off those extra packages of peeps during the Kids 1k Rabbit Rush, plus a 5k & 10k for adults during this year's Bunny Bolt in City Park April 15, 8:30-1p.m. Event includes a huge Easter Egg Hunt, free yoga classes for kids and adults, face painting and balloon artists. Word on the street is the Easter Bunny will also be making an appearance. Information: 303-358-8896.
Easter Eating
Monaco Inn Restaurant
It's an ancient tradition, stretching back through time immemorial. Easter without Colorado spring lamb slowly roasted outside on rotisseries at the Monaco Inn Restaurant on Easter is hard to imagine. Savoring the fresh, roasted lamb with a glass of wine has become a Cherry Creek Valley tradition.
In Greece, Easter is the biggest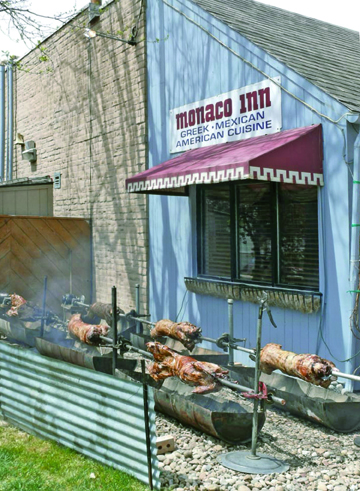 holiday and most everyone roasts a whole lamb on a "Souvla" which is a large spit. In Greece the feast of Pascha — known in the Western World as Easter — actually translates to "Passover." The Greeks also refer to Pascha as "Lambri," which translates directly to "brightness," thereby referring to the sunny arrival of a new spring and new life.
The family-run eatery that serves traditional Greek fare plus American and Mexican specialties will serve the traditional rotisserie Colorado Spring Lamb April 16 from 12 to 8 p.m. The meal is served with roasted oven Greek potatoes, plus Greek salad or Avgolemono soup. Because the two Easters are on the same day this year, reservations are recommended. Information: 303-320-1104.
Inn At Cherry Creek
Easter Sunday is being celebrated in spirited and mouth-watering fashion at the Inn at Cherry Creek in Cherry Creek North Aug. 16, 11 a.m. to 9 p.m. Enjoy out-of-this-world Stuffed French Toast and Garden Eggs Benedict. Of course the chef's menu also includes delectable holiday favorites like Rack of Lamb, Grilled Salmon and Glazed Ham and much more. Information: 303-377-8577.
Brunch Bunch
Brio Tuscan Grille
The Italian eatery in Cherry Creek Shopping Center opens early serving a special Easter brunch until 3 p.m. Information: 303-329-0222.
Capital Grill
The Executive Chef at the Larimer Square steakhouse is serving a prix fixe brunch including dishes such as Shrimp and Grits. Information: 303-539-2500.
Edge Restaurant
Restaurant in The Four Seasons Hotel downtown is serving brunch from 9 a.m. to 2 p.m. Entrees include Eggs Benedict, Bagel & Lox, Pancakes plus Prime Rib and Pork Loin. Information: 303-389-3343.
Fire
The restaurant inside the Art Hotel in the Golden Triangle is serving a brunch buffet with carving stations, a seafood display and desserts. Information: 303-572-8000.
Ship Rock Grille
The eatery in the Red Rocks Visitor Center offers an Easter Sunday Brunch Buffet, 9 a.m. to 2:45 p.m. Information: 303-697-4939.