by Glen Richardson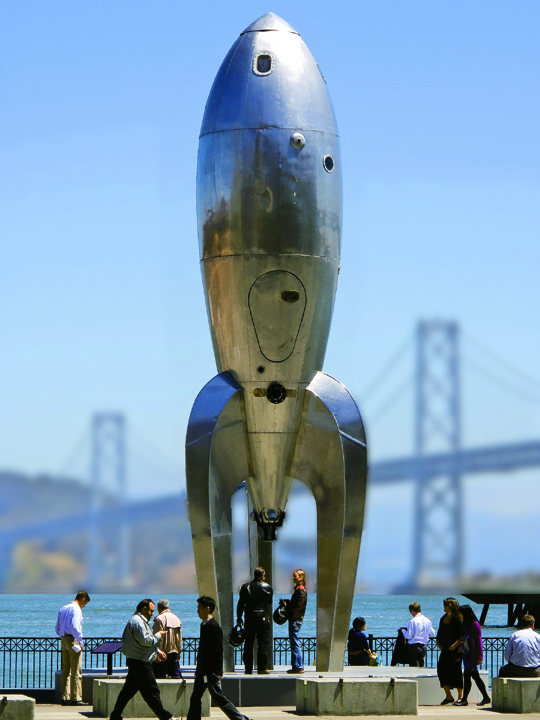 The countdown is on: The 40-foot-tall Raygun Gothic Rocketship first revealed by the Chronicle last February is landing in Lowry this May. Ground zero is the parking lot directly in front of the Lowry Beer Garden at 7577 E. Academy Blvd.
Design and construction of a Spaceport — a structural and visual base — is currently underway in front of the Beer Garden and adjacent to the Wings Over the Rockies Air & Space Museum. Landing site for the rocket was moved from its original planned location in front of the Luce Condos at the corner of East Academy Blvd. and Rampart Way following last February's Chronicle article.
The 40-foot tall art piece is a rococo-futuristic, highly stylized vision of space travel circa 1930s-1940s science fiction. First landing and inauguration took place at Burning Man 2009, and the sculpture subsequently appeared for Yuri's Night at NASA Ames before going on display at the Embarcadero in San Francisco for more than two years.
Rocket Plaza Planned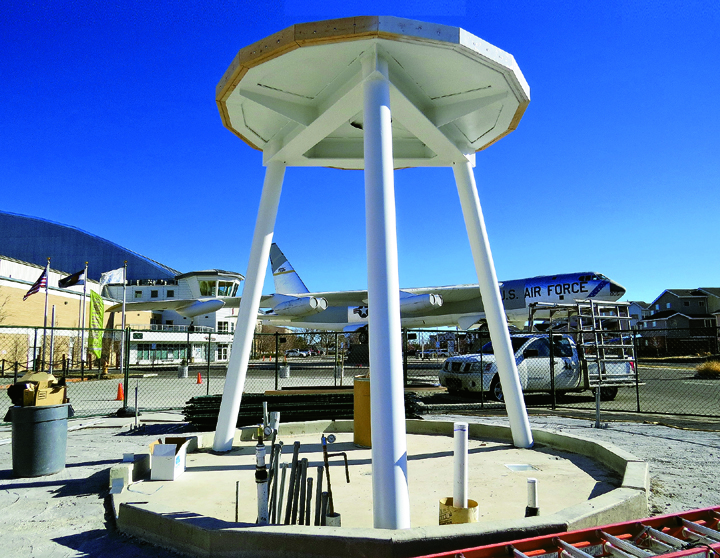 The ambitious project to enliven the Hangar 2 development at Lowry is a project of Hartman Ely Investments in partnership with Larimer Associates. It remains uncertain if the project has overwhelming neighborhood support. Developers, however, are confident the compelling large-scale sculpture will engage people and enhance their experience at Lowry and Hangar 2. Without a doubt the rocket will make science fiction an everyday reality for thousands of Valley residents and visitors to Lowry. The Denver Landmark Preservation Commission has approved the project.
It was created by California artists Sean Orlando, Nathaniel Taylor, and David Shulman, along with Five Ton Crane (5TC), a group of artists and inventors from the San Francisco Bay Area.
The rocket's voyage will end at Lowry where it will become a permanent display piece. Plans call for it to be mounted atop an ice cream shop, symbolizing a launch pad. Specifically, a retail structure to sell ice cream and other retail items will be the structural and visual base for the Raygun Gothic Rocketship. It will be the centerpiece of a pedestrian plaza being built in the existing parking lot in front of the Lowry Beer Garden.
Lowry officials have not announced if the installation will be illuminated for nighttime viewing as it was during its stay at the Embarcadero.
Stellar Destination
Although yet to be announced by developers, since the pedestrian plaza, rocket sculpture and kiosk will be located directly in front of the Lowry Beer Garden, it is likely the same staff will manage the two facilities.
Like other neighborhoods in the Cherry Creek Valley, Lowry has added several public art pieces. Unlike Lowry's existing public art — many with a flight theme — this Gothic Rocket is so evocative of an old science fiction movie, viewers will half expect a crew clad in natty jumpsuits to disembark and explore Lowry. Others may imagine it is poised to board passengers for a run to nearby stellar destinations.
If the crowds for the new Star Wars Exhibit at the Denver Art Museum are any indication, it is likely that huge crowds will take the journey to Lowry for the opening and throughout the new year. In form and function the iconic rocket's captivating structure is apt to equal or surpass the Power of Costumes to entertain and keep visitors amused.
Sculpture Site
Hartman Ely Investments has been involved in the redevelopment of Lowry since the approximately 1,800-acre community was created from the decommissioned Lowry Air Force Base. They are credited with re-energizing many old buildings and the creation of unique new places at Lowry. The firm has been involved in the planning and implementation of several Lowry developments. Among those projects are the Steam Plant Loft, Row and Patio Homes, Grand Lowry Lofts, Officers' Row Loft Homes, Luce and Parkside.
Nestled in the heart of Lowry, the Lowry Beer Garden exists to bring people together. Celebrating Colorado's craft beer culture, it has more than 4,500 sq. ft. of outdoor garden area with open-air seating plus a covered pavilion. Oktoberfest-style picnic tables can accommodate up to 350 guests. Being adjacent to the Wings Over the Rockies Air & Space Museum will make it a popular sightseeing diversion.
The Beer Garden offers a selection of draft and bottled beer with a focus on Colorado handcrafted brews. It also serves up casual food featuring locally made gourmet brats and sausages, freshly baked pretzels, house-ground burgers, hand-cut fries and chef-created salads.