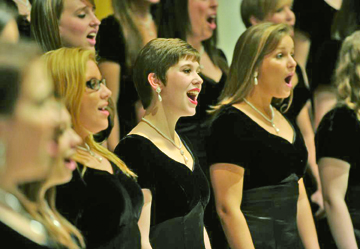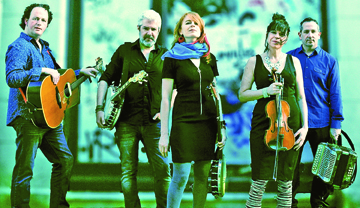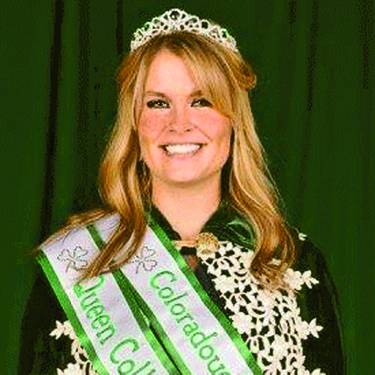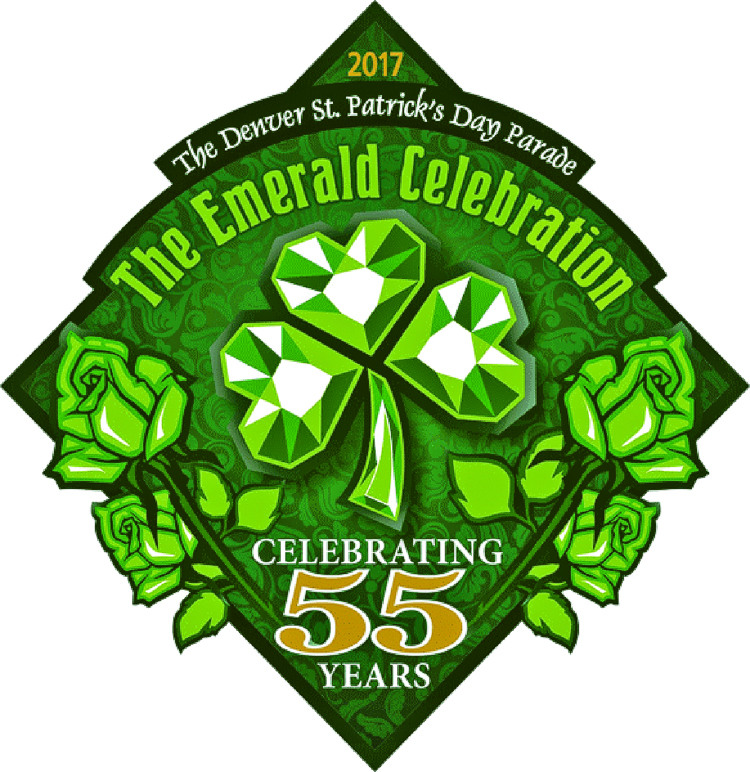 There is a spirit to Saint Patrick's Day in Denver that is unlike any other time. Regardless of your actual heritage, everyone's a little bit Irish during the weekend. You might think it's simply a time to wear green, drink at an Irish pub and follow a leprechaun to the pot of gold. But it is also about good spirits and friendship and faith in the future — just as prayed for by St. Patrick.
This year the Luck O' the Irish will be manifest in the form of everything from mass services indicating the religious adoration of St. Patrick — patron saint and national apostle of Ireland — to musical concerts. The holiday, nevertheless, will be most noticeable by wearing green, eating traditional Irish dishes, and drinking green beer and cocktails.
The annual Denver St. Patrick's Day Parade that steps off on March 11 is one of the largest St. Paddy's Day parades west of the Mississippi, and the biggest annual parade in Denver. In recognition of its 55th year, this year's parade theme is The Emerald Celebration. More than 250,000 people are expected to line the streets of LoDo to see horses and stagecoaches, marching bands, dancers, quirky floats and Irish-themed characters.
Emerald Parade
At 9:30 a.m. the parade exits onto Wynkoop from the Coors Field parking lot onto 19th St. (behind Denver Chophouse). The parade proceeds on Wynkoop to 17th St. and takes a left on 17th to Blake, and finally ends at 27th St. and Blake. The best place for families to watch the parade is on Blake St. between 23rd to 27th Avenues. If you plan on staying for the entire parade, remember that the weather changes quickly so it is a good idea to dress in layers. In over 50 years of parade history it has only snowed twice. The temperature average is in the 60s on parade day.
To avoid traffic and parking issues it is also a good idea to arrive early. Close-in parking often fills up an hour or more before the parade starts. To make parking easy and stress-free, the parade committee has partnered with Parking Panda, allowing parade goers to purchase guaranteed parking passes at several lots and garages near the parade.
Adrian Farrell is again the Grand Marshal of the parade. He is Ireland's first Consul General to the U.S. Southwest. The Consulate's priorities are to advance Irish economic initiatives and partnerships between Ireland and states of the Southwest U.S. Also in the parade is Laura Farley, this year's Queen Colleen. She will serve as spokesperson for the parade committee and attends a variety of events during her yearlong reign. A Denver native, she earned degrees in Criminal Justice and Psychology from Metro State U. She attended St. Brendan's School of Irish Dance beginning at age 10, continuing until she reached the rank of champion.
Let The Green Begin
The City and County of Denver will kick off St. Paddy's activities on March 6 with a Proclamation Ceremony at the City & County Bldg. The proclamation is signed during a regular City Council session. The lighting of the Denver City & County Building to green will also take place. The session is scheduled to begin at noon.
A Changing of the Sign Ceremony at the corner of 20th and Blake follows on March 9. Each year the City renames Blake Street "Tooley Street," in celebration of St. Patrick's Day. The change is in honor of the late Dale Tooley — longtime Denver District Attorney, one-time mayoral candidate and full-time Irishman. This usually takes place between noon and 3 p.m.
Then Lassies and Laddies get their Luck on March 12 for the Runnin' Of The Green benefiting Volunteers of America, 10:15 a.m.-2 p.m. Considered the kickoff to the Denver running season, it is one of the largest 7K races in the nation. In addition to the 7K run/walk there is a 7K challenged-athlete race and a 2.2-mile untimed run/walk. Voted the best post race party, this year's Festival-Expo following the races features live Irish music, Irish dancers and the Colorado Youth Pipe Band.
Concerts
Gobs O' Phun
The annual Gobs O' Phun St. Patrick's Day Concert is in the Tuft Theatre at Swallow Hill March 10, 8 p.m. Gobs O'Phun is an Irish/ Scottish acoustic folk duet featuring Denis Sullivan and Martin Lambuth, brothers-in-law who play guitar, bodhran and harmonica. Much of their repertoire is robust, fast-paced and humorous, yet sprinkled with a variety of love songs, historic accounts and beautiful ballads. Presented with ad-libbed humor and audience participation attendees feel like part of the clan. Information: 303-777-1003.
Solas
The quintessential Irish-American band Solas is currently on a world tour and plays Daniels Hall at Swallow Hill March 12, 7 p.m. It is a celebration of a band that has become one of the most influential groups in the history of Irish music. The group is anchored by founding members Seamus Egan (flute, tenor banjo, mandolin, whistles, guitars, bodhran) and Winifred Horan (violins, vocals). They form the backbone of the uniquely definable Solas sound. Longtime members Eamon McElholm (guitars, keyboards, vocals), and Mick McAuley (button accordion, vocals) and newest member, the dynamic Moira Smiley (vocals, banjo), are musically at the top of their game. Solas is the standard bearer not only for great Irish music, but music in any genre and is a concert not to miss. Information: 303-777-1003.
Céad Mile Fáilte
Augustana Arts welcomes céad mile fáilte (pronounced k¯ed m¯el˘a fawlta), to a special St. Patrick's Day celebration March 17, 7:30 p.m. Singing traditional Irish folk songs and pub tunes it features the Saint Mary's College Women's Choir who are making Denver the last stop of their biennial national tour. They will be performing with the Colorado Women's Chorale led by conductor Nancy Menk. The laddies, Colorado Men's Chorale, will also be on hand for a round of traditional Irish folk songs and pub tunes. Last, but not least, organist extraordinaire David Eicher will perform Poulenc's Litanies a la Vierge Noire de Rocamadouri. Information: 303-388-4962.
Entertainment
Celtic Yarn
The BiTSY Stage presents The Lass Who Went Out With The Cry Of Dawn, March 8-April 2. It is a lively Celtic yarn that weaves attendees through a landscape filled with magic, mystery, and the reminder that as we thread our way through life, things are not always as they appear to be. Performances are Saturdays at 1 and 3 p.m.; Sundays at 11 a.m. and 1 p.m.; and Fridays March 10 and 31 at 7:30 p.m. There is a special fundraiser performance on Saturday, March 18 at 8 p.m. Performances are free with donations accepted at the theatre 1137 S. Huron St. Information: 720-328-5294.
St. Paddy's Day Festival
The Knights of Columbus St. Patrick's Day Festival is March 11 at the Knights of Columbus home located at 1555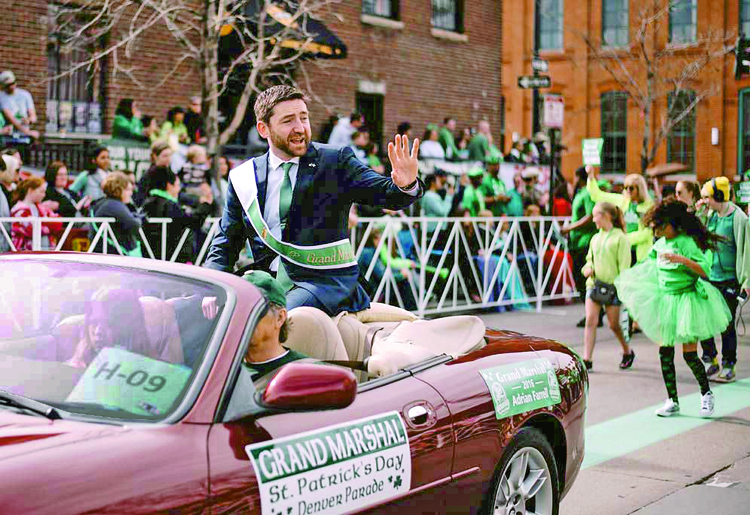 Grant St., 11 a.m.-4 p.m. There will be live entertainment throughout the day with Bagpipers and Step Dancers. Meals will be served from 11 a.m. to 3 p.m. Fellow Knights, especially those 4th degree, are encouraged to march in the parade with full honor guard regalia. Information: 303-880-9820.
Irish Grub
Casey's
Located in the Stapleton Town Center, Casey's — named after the famous Irish Writer Sean O' Casey — is one of the few Irish restaurants remaining in Denver. The menu includes Irish-American fare like shepherd's pie plus corned beef and cabbage. Information: 720-974-7350.
Green Russell
Frank Bonanno's signature barbecue eatery and drinking establishment on Larimer Square often features Irish-inspired menu items. St. Patrick's Day offerings usually include Irish nachos with smoked corned beef, swiss fondue, bacon, shredded cabbage and scallions. Information: 303-893-6505.
Monaco Inn Restaurant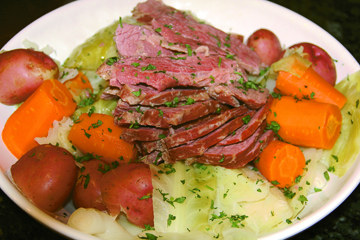 Nothing's better on St. Patrick's Day than a traditional plate of corned beef, cabbage and roasted new potatoes. Always a popular holiday eatery, this South Monaco Parkway restaurant has for the last several years offered Corned Beef & Cabbage as a St. Patrick's Day Special. They will be doing the same again this year for lunch and dinner on March 17. This pink corned beef and cabbage dish is slow roasted, and quickly gobbled up. Mmmm, it's good to be Irish for a day. Information: 303-320-1104.
Tilted Kilt Smokes Out
Tilted Ki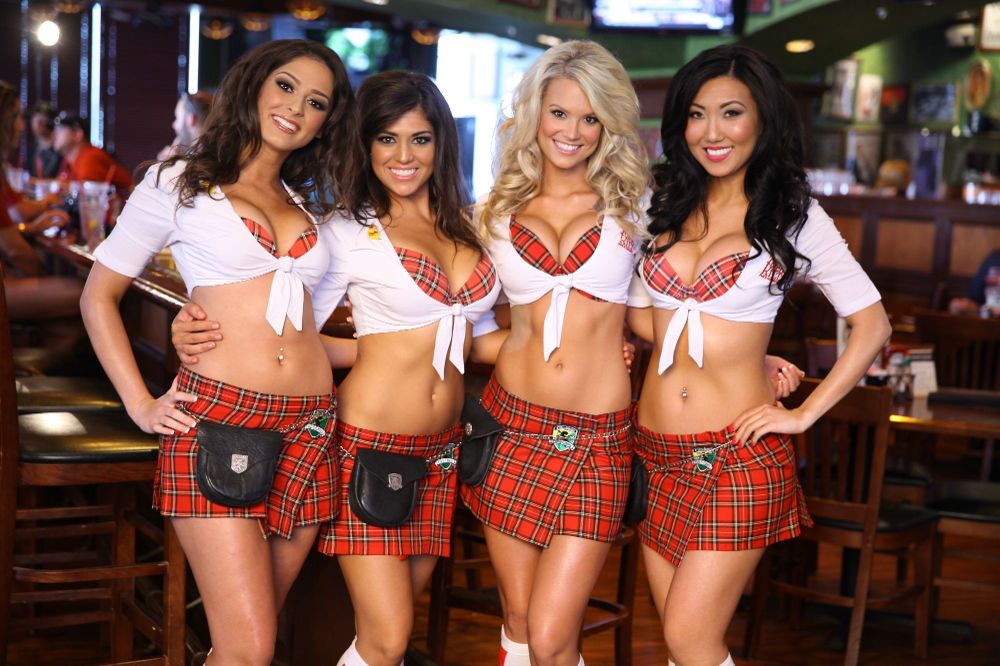 lt, the popular Irish restaurant at 16th St. and Lawrence downtown, closed in early February. The eatery is being "un-chained" and will become Burnt Barrel, a Colorado Spirits & Sports Space. It is expected to reopen sometime this month but apparently won't offer Irish dishes.
Pub Place To Play
Fadó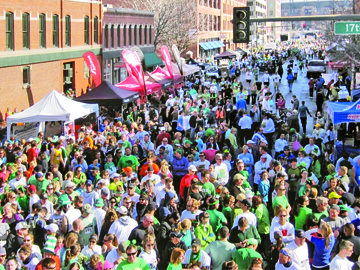 This Irish pub (pronounced f'doe) is hosting St. Paddy's celebrations on March 11 and 17 with food trucks, live music and Irish dancers. With hospitable surroundings, you'll enjoy good food and drink plus friendly conversation. It's what the Irish call "craic." Information: 303-297-0066.
Keggs & Eggs
An annual radio station hosted music event, it is at the Blake Street Tavern on March 17. It kicks off at 7 a.m. with green beer, whiskey and rock performances. The lineup for 2017 includes American Authors, Bishop Briggs and Bryce Fox. Information: 303-675-0505.
Scruffy Murphy's
This is one of the most authentic slices of the Emerald Isle you'll find in Denver. Just minutes away from Coors Field, Scruffy's is the perfect place to grab a pint or enjoy some traditional Irish pub fare such as shepherd's pie, bangers and mash. They host musical acts from DJs to rock bands Thursday through Saturday. Information: 303-291-6992.
Irish Rover
Amidst the dive-y rock clubs and indie boutiques along South Broadway you'll encounter this relaxed and friendly pub. It's a great place to enjoy a pint or two, chat with the locals by the fireplace or sit on a high stool at the bar. Moreover, their huge rooftop patio is a great place to get above it all in Denver. Information: 303-282-4643.