Footers Catering's Heather Carr Carves Out Win In Food Network's Pressure Cooker Cooking Competition
by Glen Richardson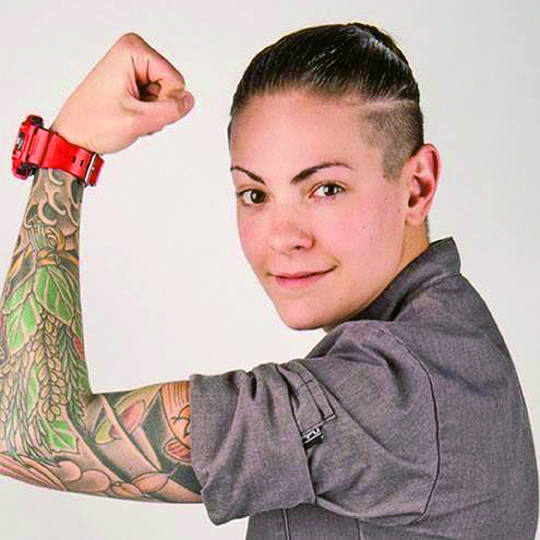 Footers Catering Executive Sous Chef Heather Carr took home the $10,000 grand prize in the March 21 episode of the hit Food Network TV show Chopped. The 25-year-old standout Culinary Arts grad from Denver's Johnson & Wales University beat out three other contestants for the prize. The competition consists of an appetizer, dinner and dessert. The last Colorado contestant to win the cooking competition was chef Chris Royster of Boulder's Flagstaff House restaurant.
Footers threw a Chopped TV show viewing party for friends, family and clients at Mile High Station on March 21 to cheer her on without knowing the outcome. In the seven months between taping and airing television spots, Carr couldn't reveal she was the winner due to an ironclad nondisclosure agreement. Footers owners, Anthony and April Lambatos, their entire catering team and the crowd were gleefully surprised and happy.
"We are so unbelievably proud of you for taking this huge risk and going out of your comfort zone to prove to the world how passionate you are about your culinary career," the owners declared. "Your poise and creativity inspire us every single day and we are so lucky to have you as a part of the Footers team. Thank you for always leading by example and bringing your positive energy into everything you do," they concluded.
Adds Jorge de la Torre, Dean of Culinary Education at John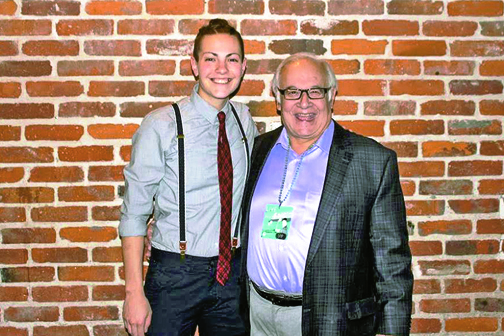 son & Wales University, "We're incredibly proud of Heather's win on Chopped! Just like she did when she was in her culinary labs on campus, she brought her A-game to the show and we're thrilled to see her take the title."
A Career Appetizer
"Winning Chopped is a career highlight for sure," Carr says, "but it's just a cooking competition. It's just one day in many, and it's about the luck of what you are given. It's not everything about who I am. To me, speaking at Catersource, being an IC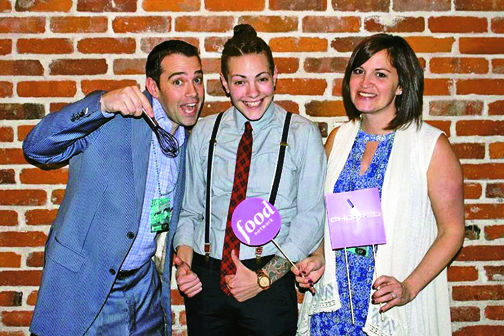 AEF scholarship winner — twice — and mentoring other chefs is of more value."
Carr is someone who takes advantage of every opportunity that comes her way, and is sure enough to be herself in every situation — her shaved hairstyle and tattoo sleeve of vegetables tell you that even before talking to her. And that's what it is about for this 25-year-old that is making her a winner in the catering industry.
After attending Johnson & Wales, she moved to Los Angeles where she worked for a boutique-catering firm and won her first ICAEF Scholarship. This enabled her to attend Catersource where she heard great things about Footers. She set her sights on moving back to Denver and working for them, which of course she does. Once again, she won the ICAEF Scholarship (applicants can win a maximum of two tim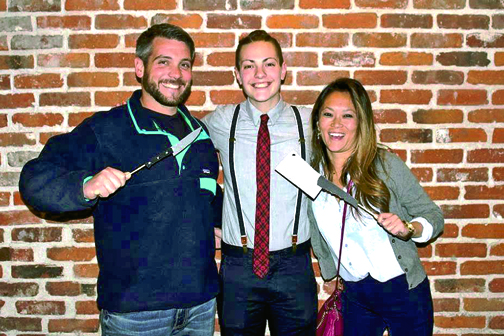 es).
Keith Lord, executive chef of Wild Thyme in San Diego, and this year's winner of the International Caterers Assn. Chef of the Year Award mentored her the second time at Catersource. Less than a year thereafter, Carr and Lord presented together at the Art of Catering Food in Washington, D.C., on upcycling and the ability to use discarded food to create a meal.
Cooking Game Plan
The New Hampshire native began cooking in college. As a senior lacrosse player at Pinkerton Academy — the state's largest high school — Carr scored 15 goals and added 51 assists and was named All-New Hampshire Division 1. Carr went on to play lacrosse at the University of New Hampshire before attending Johnson & Wales in Denver.
Due to the combination of classes and lacrosse practice she never seemed to have time to buy groceries. She made a deal with her roommates that if they bought the groceries, she'd cook. Laughing, she recalled, "I was pretty bad at first. I got better and never stopped. I've been cooking professionally for the entire six years since."
As someone who learned cooking to pay her rent, Carr wants others who enter the field to understand the foundation of the cooking process and how something as simple as emulsification of a vinaigrette, for instance,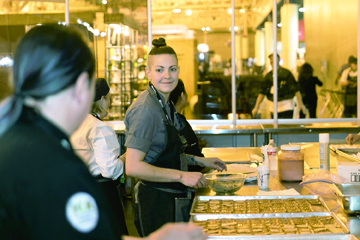 translates to many other cooking techniques. "I want to mentor others and teach them all the things I wished I had learned when I began," she adds.
Flame Of Creativity
By reinterpreting old ways, Carr and young chefs like her are foraging into the fields and coming up with truly personal styles of cooking. Her unstructured thinking, doing and cooking is the flame of creativity that can spark caterers, restaurants and residents to fan experimentation that will light new ways of thinking about food.
By pushing ambitions and lowering pretensions, they may finally eliminate kitchens driven by luxury but without heart or soul, doing away with old and new palaces of haute cuisine where everything is too formal or this-is-how-we've-always-done-things tradition have been driving catering and dining for too long.
Her win is a win for us all. A fresh breeze is blowing through the Valley as a generation of upstart chefs, artisans and food lovers begin taking Cherry Creek back to its roots — and into a bold new future. You can check on the growing movement at Footers Catering. Information: 303-762-1410.