DPS Board Votes Unanimously In Reynolds' Favor
by Ruthy Wexler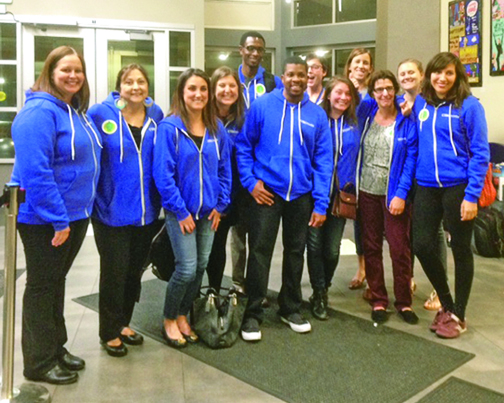 In an extraordinary reversal of fortune, The Denver Public Schools Board of Education at its meeting on June 19, 2017, chose existing Greenlee Elementary School Principal Sheldon Reynolds to lead the restart of Greenlee in 2018-19. He will keep his staff for this next school year and for the upcoming restart, which will be under a new name, Center for Talent Development at Greenlee (CTD).
If Reynolds hadn't been chosen to lead the restart, he would still be acting principal of Greenlee in the 2017-18 school year, but it would have been a year filled with sadness, teacher unrest, staff seeking employment at other schools — and his own disappointment at not being able to continue the work he had begun.
The Board had designated Greenlee as "persistently low-performing," along with another elementary Denver school in December 2016 (still another elementary school, Gilpin Montessori, was closed for good due to failure of test scores to improve sufficiently. Under the recently adopted School Performance Compact (SPC) subjective factors are eliminated and a purported objective mandate based on primarily test scores control. See Greenlee Elementary On The Chopping Block, front page Glendale Cherry Creek Chronicle, March 2017.
The outcry from the parents, students, teachers and others involved with the school, which is located at 1150 Lipan Street, was immediate. In the first 18 months of Reynolds' tenure at Greenlee morale and test scores had soared but simply just not enough under the criteria set out in the SPC. Greenlee faces a plethora of challenges including the fact that it is a school with a majority of low income students for whom English is a second language.
The competition for the restart was opened to any school providers who wanted to submit a "high quality" plan, according to DPS's requirements.
Reynolds made a presentation along with a half dozen other applicants at the School Board meeting on May 11. After the June 19 Board vote the only real change in Greenlee Elementary will be its name,
which will now be Center for Talent and Development at Greenlee and that is just fine with the community surrounding the school which had come to embrace Reynolds and his reform efforts.
Reading teacher Lisa Friedman whooped with joy at the news. "Now we can continue the work we started. I can't wait."
"It's been an interesting journey, hasn't it?" a smiling Anne Rowe, President of the Denver School Board, said to Reynolds at a June 12 Board meeting, a week before the Board's final vote. (This June 12 meeting's purpose was for a newly instituted Community Review Board to recommend a school to lead Greenlee's restart; they unanimously chose Reynolds' plan and Reynolds' leadership.)
"Yes," Reynolds agreed — his tone not quite as lighthearted as Rowe's.
Changing A School
"When I first stepped into Greenlee, I knew nothing about the SPC," said Reynolds. "Honestly, if I had known, I never would have taken the job."
In 2015 Reynolds was offered two Denver schools and chose Greenlee. He welcomed the opportunity to turn an unpromising school around. The way he'd do it was with a "talent development model," a concept he'd studied while working on his doctorate in educational leadership. The North Carolina school he built entirely on that model in 2010 not only won awards, it changed the area's demographics, when families moved nearby to enroll their kids.
Reynolds had just laid the groundwork for change at Greenlee — knowing it could take up to five years to completely change a school — when he had to shift gears for the restart plan.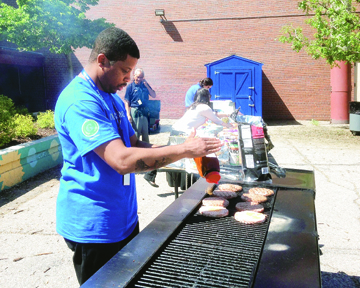 No Room For Error
The restart competition got kicked off with DPS's Call for New Quality Schools (The Call), which invited "school developers" to submit "high quality designs" for the two schools to be restarted as well as proposals for new schools. Reynolds knew his basic design; he'd given it a new name (CTD). The hard part would be having his vision shine through while addressing every detailed requirement listed in The Call.
Comfortable with tapping the strengths of those around him, Reynolds met continually with staff, who, he said, "pushed me to define what makes our school different."
Detecting a "woe is me, the District is out to get us" mentality, Reynolds coached his teachers toward this attitude: "We control what happens."
"I told them, 'People might not see you, but I know you guys are great teachers.' See, I already had that turnaround mentality, you've got to be better than a teacher at another school, better than another principal … There's no room for error when you're turning a school around."
Working together produced unity. At the Special Board of Education meeting on May 11, when applicants formally presented their plans, a dozen teachers surrounded Reynolds, all wearing resolute expressions and bright blue Greenlee sweatshirts.
At the beginning of that meeting, Greenlee parents pleaded to keep their principal. One young mother said tremulously, "My grandmother, who just passed away, worked at Greenlee for 26 years. She saw principals come and go. When Mr. Reynolds arrived, she knew he was the one we needed…"
Only one school emerged to challenge Reynolds for Greenlee's restart: Wyoming-based Poder Academy. CEO Marco Martinez said he needed to take the school over because Greenlee, "despite infusions of help, has been drastically underperforming," assuring the Board that with strict behavioral expectations, he would "turn the school and community around."
The Work We Started
Martinez's words — and DPS's description of Greenlee as "persistently low-performing" — seemed to belong to a different world than the one inhabited by Greenlee teachers and parents.
When his turn arrived, Reynolds tied the two worlds together. "One thing I want to spell out clearly: if you don't know us, it's easy to say our students are broken, our teachers are broken, our community is broken. But once you work in our community, you see how strong it is …"
Asked by the Board what his new plan would change, Reynolds was hard put to give a specific answer. He'd added elements, notably a "birth to 5th" program to include very young children. But the basic concepts he ran the school on would remain.
On June 12, Reynolds spoke frankly to the Board, allowing that the restart process had pushed him to articulate "what makes our school unique. That's where I wanted to end up … it's just not how I wanted to get here."
Having to draw so hard on his and staff's resources drove him to be "an architect" for deeply held beliefs. "In the process, I bonded with my community. I put my name on it."
And while others wish summer vacation could last longer, the staff, students and parents at Greenlee can't wait for the new school year to begin.