by Ruthy Wexler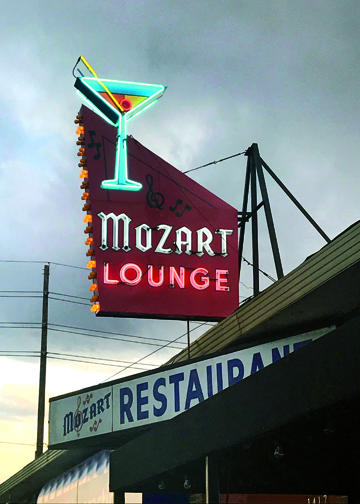 Every neighborhood wants one — and now Mayfair has got one: a bar like Cheers. For those too young to remember, Cheers was a TV sitcom about a bar whose salient quality got expressed in the show's theme song: Where everybody knows your name. That idea — a friendly neighborhood haven — was what Mia Peterson and Michael Bruntz had in mind when they bought the Aqua Lounge on Krameria and 14th a little more than a year ago.
A Vision For Mozart's
The first thing Bruntz and Peterson did was restore the bar to its original name: Mozart's. Then they looked around. "Whatever was good, we kept," Bruntz recalls, "like the hardwood floors, the old walk-in coolers, the grand piano. Then we redid the surfaces, painted the walls, bought new furniture."
In addition, the partners sought to replace the old bar's persona. The Aqua Lounge was an LBGTQ bar; the new partners wanted to welcome everyone: gay, straight, young and old. They changed the front window by installing a garage door — which, rolled up expands the space invitingly.
"That stated our vision," Bruntz explains. "We were opening Mozart's up to the whole neighborhood."
They had the old neon sign restored back to Mozart's Lounge and held their Grand Opening in November 2016. Now — almost a year later — the partners believe Mozart's is becoming everything they imagined.
"I realized we'd achieved our dream on New Year's Eve," Bruntz recalls. "People came in to drink and dance and celebrate. A lot of them walked over. Then someone came up to me and said, 'I was looking for a bar where we could dance tonight … and I remembered seeing this was open again ...'"
Mia's moment of recognition arrived when a friend from Brooklyn visited this past spring and exclaimed, "You've literally built a Cheers!"
Someday We're Going To Own This Place
When Bruntz and Peterson met at work
more than 15 years ago, they had no idea they'd end up as business partners. They were just good friends who happened to live in the same neighborhood, Mayfair, and enjoyed hanging out at the then-Mozart's Lounge. During one of those visits, they realized they shared a vision: to create a community gathering place. "Someday," they vowed, "we're going to own this place."
They tried to buy it several times but the purchase didn't go through until 2016 — at which point the two fell headlong into a huge learning curve. "That next year was the longest and quickest ever," laughs Peterson. "I enjoyed applying some of the business practices I learned in the corporate world to our little mom and pop. I've always embraced the entrepreneurial spirit."
Bruntz had to step out of his comfort zone to buy the bar. "Up until this I was doing what I was supposed to, thinking about retirement, my IRA, all that. And running a bar isn't known as a big security move. But I'd turned 50. I wanted to do something really meaningful to me."
Family And Fun
On a Wednesday evening in July at Mozart's, Bruntz appears happily in his element, sharing a laugh with a Vietnam vet who stops by most every night, giving a hug to Laura Sanford, another regular, whose friends have thrown her a birthday party at her favorite bar.
Watching Laura return to her confetti-laden table, Bruntz beams. "I love the people part. I love my customers."
Asked why she loves Mozart's, Laura didn't hesitate. "It's family."
"The owners," she confides, "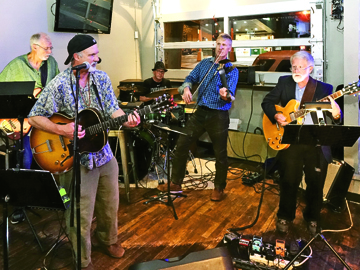 are absolute sweethearts."
Explaining their business philosophy, Peterson explains, "We think community is what's important. So we emphasize local — beers from local breweries, musicians from around here. We also have a great bar staff, which makes everything easier."
Live music — an eclectic mix of jazz, funk, classical and old-school rock — happens on weekends. On weeknights, Mozart's offers lighthearted fun — Music Video Bingo on Wednesday; Karaoke on Thursday and darts twice a week. Connecting goes on all the time.
"A neighborhood couple just celebrated their 20th anniversary here," Peterson smiles. "That's what we like to see."
Socializing Then And Now
The original Mozart's started out as a place to connect: Mozart's Hall opened on Larimer Street in the late 1800s as a bar and social center for German immigrants (some of the original equipment made the move from downtown). In the '50s, the bar relocated to its current spot at 1417 Krameria, changing owners a few times in the process.
And now Bruntz and Peterson are at the helm. They look forward to a busy football season, celebrating with free Broncos touchdown shots, starting an Open Mic night, hosting private events and holiday parties, building out the modest menu (currently standard pub fare) — and continuing to make sure the neighborhood has a fun, safe and friendly place to hang out.
"It's extremely rewarding to see new faces from all walks of life," says Bruntz, "and from all parts of the city, come and enjoy the bar."
He adds, "When we did this, Mia and I decided to not look at risks but at rewards. I have truly found my passion. I love realizing the potential of this place. Seeing what could be and making it that way."