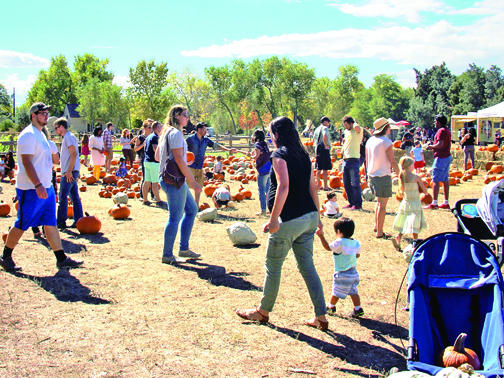 Eeeeek, Mommy's Little Pumpkins Are Carving Out Groovy, Ghostly, Ghoulish Holiday Fun
There are many tales of ghosts and demons in Denver — especially in certain city parks — but it is the paranormal at local cemeteries that spook people most. On occasion locals claim to hear footsteps. And voices! "Is this hell?" the voice asks. Such reports are why the Mile High City deserves a spot among America's great Halloween towns.
From Dracula at the Ellie to the Pumpkin Harvest Festival at Four Mile Park there are many amazing Halloween festivities for families to choose. You'll find pumpkin beer on tap, late-night shows plus an assortment of low-key, kid-friendly events with costume competitions.
Here's the Chronicle's roundup of events to let you go batty this Halloween:
Kids Activities
Denver Zoo
The annual Boo at the Zoo, Oct. 29-30 offers more than 20 trick-or-treat stations, creepy crawly animal demonstrations and exciting family-friendly entertainment under the canopy of Denver Zoo's fall foliage. Activities are free with zoo admission. Boo After Dark offers visitors a nighttime trick-or-treating experience. Information: 720-337-1400.
Four Mile Park
Celebrate the arrival of autumn with old-fashioned fun at the annual Pumpkin Harvest Festival at the park Oct. 7-8, 10 a.m. to 4 p.m. Build your own scarecrow, select your favorite pumpkin from the patch, and tour the park in a horse-drawn wagon. Explore how 19th-century Coloradans lived and prepared for the season, with historic demonstrations and tours of the Four Mile House Museum. Try your luck at county fair games, and enjoy delicious treats from the beer garden and local food trucks. Information: 720-865-0800.
Denver Botanic Gardens
For Halloween, the Gardens on York St. will light up at night with Glow at the Gardens, Oct. 18-19 and 25-26. Jack-o'-lanterns and luminaria-lined pathways, LED circus performers, scavenger hunts, costume contests plus fall-themed activities will be fun for all. Evenings will include free face painting until 8 p.m. Come for the pumpkins and stay for dinner and hot beverages at the Offshoots Café. Information: 720-865-3500.
Denver Children's Museum
For three days Trick or Treat Street is hosting costumed kids and adults for a wonderland of fun, Oct. 28-30. Families can march from one Treat House to the next on the Marsico Campus and collect goodies, create Halloween crafts and play carnival games. It's the ultimate safe Halloween adventure. Information: 303-433-7444.
Elitch Gardens
On weekends, once the sun goes down through Oct. 29 the theme park is transformed to Fright Fest, a scream park. During the day, little ones squeal in glee over the free candy on the Trick or Treat Trail. At night, haunted creatures lurk around every corner. Free with regular admission. Information: 303-595-4386.
Colorado Railroad Museum
It's full steam ahead for tricks, treats and trains on the Trick or Treat Train, Oct. 28-29. The Railroad Halloween Town is a safe place to enjoy trick or treating. Catch a ride behind a historic Denver & Rio Grande Steam Locomotive in vintage passenger cars hosted by conductors and engineers in full costume. Information: 303-279-4591.
Eek-A-Boo Bashes
Ellie Caulkins Opera House
Colorado Ballet opens its season with the Halloween-favorite Dracula, October 6-15, at the Ellie with music performed live by the Colorado Ballet Orchestra. "I encourage you to stock up on garlic and sink your teeth into this ballet full of terrifying excitement," says Artistic Director Gil Boggs. Dracula tells the story of Jonathan Harker, who travels to Transylvania to do business with the infamous Count Dracula. Dracula becomes enamored with Harker's fiancée Mina and travels to England to pursue her. The men follow Dracula into a crypt to stop him. Only daylight and a stake through his heart can stop him from taking Mina as his own. Information: 303-837-8888.
Molly Brown House Museum
Take a literary journey of Victorian Horrors with renowned authors like Poe, Wells and Lovecraft at the Museum, Oct. 13-14, 20-21 and Oct. 27-28. You'll hear soul-searing tales of unspeakable horror and madness — all inside the suitably spooky — quite possibly haunted — Molly Brown House. It is a great inclement weather option with live music, face painting, hands-on crafts and LED circus performers. Information: 303-832-4092.
The 16th Street Mall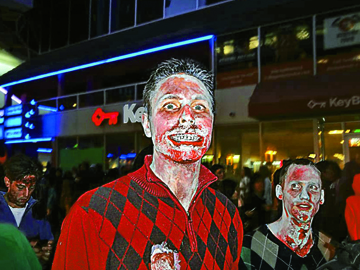 Thousands of the undead and blood-splattered crazies will gather at Skyline Park and drag down the Mall for the Denver Zombie Crawl, Oct.7. It starts at 11 a.m. with the Organ Trail, a 5K run-walk-crawl in which zombie teams solve clues to find locations and move to checkpoints in an exercise in creativity. That's followed by the Undead Parade at 2 p.m. During the procession, you'll see bodies missing heads, bodies carrying their heads, and bodies with holes in their heads. Information: denver zombiecrawl.com
The Clocktower Cabaret
Join the adorable Clocktower Clockettes at The Clocktower Cabaret as they pay a spooky burlesque tribute to all the thrills and chills of America's spookiest holiday, Oct. 26-29. The Halloween Boo-Lesque & Comedy Show features aerial feats, jugglers, magicians and comedy hosted by Naughty Pierre. It's old-fashioned fun with interactive comedy and costume-contest prizes. Information: 303-293-0075.
Riverside Cemetery Tours
Halloween isn't complete without a visit to Riverside Cemetery, Denver's oldest boneyard. It has it all: Spooky old head tombstones, twisting paths, majestic mausoleums and statuary plus 6,700 bodies buried beneath its soil. Tour dates are Oct. 13-14, 20-21 and Oct. 27-28. Located at 5201 Brighton Blvd., late night tours have been added. Information: 303-399-0692.
Best Boo Balls
The Curtis Hotel
Coloween at The Curtis Hotel, Oct. 28 is one of the most anticipated Denver costume balls. There is a mind-bending labyrinth of haunted hallways and hair-raising entertainment. Attendees enjoy three ballrooms featuring live music and DJs, sexy theatrical performers, and 28 bartenders serving open bar. Come ready to compete in a lavish costume contest hosted by a secret celebrity guest. Information: 303-571-0300.
McNichols Building
Imagine 20-foot spiders, a mausoleum, haunted house, performers, bands and DJs all under one roof. The Paranormal Palace in the McNichols Building is a Halloween party like no other, Oct. 28. Enter through the mouth of a 25 ft. skull, where multiple DJs pound the palace walls and three floors of party environment. There is a costume contest with $2,000 in prizes. Information: 720-507-1376.
Sherman St. Event Center
Enjoy an unlimited open bar all night, a $1,000 "Best of The Ball" costume contest plus live entertainment and DJs at the Halloween Costume Ball, Oct. 29. The Ball takes place in the Grand Ballroom of the historic Sherman St. Event Center, featuring some of the city's most creative Halloween costumes. 303-863-9999.
Diamond Cabaret
This is the 18th year in a row for The Naughty Ball at the Diamond Cabaret, Oct. 7. Attendees come dressed in sexy Naughty costumes with lace, feathers and body paint. Ball has seven stages, six rooms, a maze of hallways and 95 performers. Information: 720-503-1376.
Haunted Houses
The 13th Floor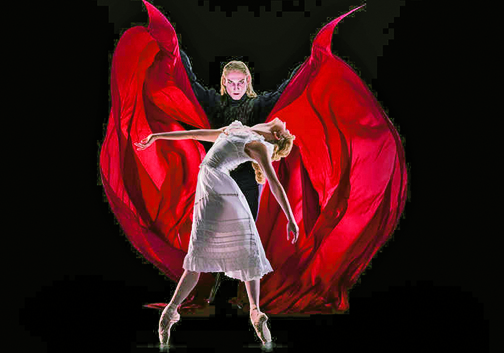 Hailed as "the scariest haunted attraction in the U.S.," the 13th Floor — now located at 3400 E. 52nd Ave. — takes guests through a frightening tour of horror, Oct. 1-31. Brave souls will learn just why the 13th floor is so often omitted from building plans — if they make it through to tell the tale. New thrills with intricate sets, highly selective casting and special effects makeup are sure to make reality and fiction blur into terror. Information: 303-355-3327.
The Asylum
The Asylum at 6100 E. 39th Ave. is Denver's top-rated haunted attraction. Back for another year Oct. 1-31, this 1800s-era themed "hospital for the mentally insane" has been taken over by the patients and prisoners. Tapping into some of our greatest fears, the haunted experience is a head trip in which tortured souls scream inside the once orderly insane asylum. Information: 303-355-3327.