Creating An Inspired Painting Per State, Artist Hopes To Fund Scholarships Through Sales
by Glen Richardson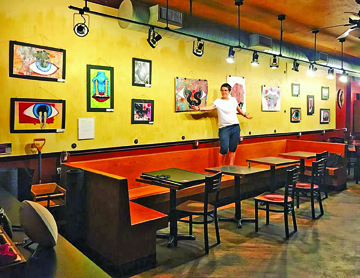 This January, Glendale artist Emily Camp, 21, is setting out to paint 50 canvases in 50 states in 52 weeks. That's right, come January 1, she is selling all her belongings and road tripping across the U.S.A. to create one inspired painting per state!
The entire trip is being funded by art sales both prior to leaving and during the 50 state trip. Goal is to create a scholarship fund from 20 percent of all art pieces sold. "The fund will financially assist other young artists to follow their big dreams, crazy projects and awesome passions," Camp tells the Chronicle.
"If the work she creates during the year-long trip sells," she calculates, "the fund will raise from $20,000 to as much as $50,000 to be dispersed among 50 scholarship winners." The scholarships, she believes, "will encourage young artists to dream big, go after those dreams and recognize the support they have around them." The artwork she creates is intended to represent, illustrate and illuminate the unique beauty in each state, as well as the culture and people within them. "I look forward to representing each state to the best of my abilities," she adds.
Fundraising, Shows
As part of the fundraising effort, she will be releasing new works, accepting commissions, and offering art in exchange for various donations. Scholarships — to be known as the "Reach For Your Dreams" scholarship — will be from $100 to as much as a $1,000 one-time reward given to the winning applicant in
each of 50 states. Direct donations can be made to Emily Camp's GoFundMe account: www.gofundme.com/artandaffect.
Despite her young age, Camp's artwork has been popular and her pieces have been shown frequently at local establishments around town. Recently her art has been exhibited at Stellas Coffee House on Pearl St. and Kaladi Coffee Roasters on East Evans Ave. This August-September her work was chosen for PARADOX, a juried show curated by internationally known sculptor Lawrence Argent at the SPARK Gallery in the Santa Fe Arts District. Started in 1979, SPARK is the oldest cooperative gallery in Denver. A former Professor and Head of the Sculpture Program at DU, Argent trained at the Royal Melbourne Institute of Technology in Australia, and has an MFA from Maryland's Rinehart School of Sculpture.
Camp's piece selected for the show was a 22" x 26" acrylic painting on paper titled "Clarinet or Bassoon?" Artists whose pieces were chosen for the SPARK exhibit had to utilize or manipulate the material they used by freely mixing combinations of various media in a paradoxical way. They also had to provide a statement or proposition that seems self-contradictory or absurd but in reality expressed a possible truth.
Trip Plans, Tracking
Camp's basic trip is mapped out. She will embark from Austin, Texas, on January 1, taking a southeast route to the East Coast, and the Northern States. She will then travel down the West Coast before heading to the Southernmost states. "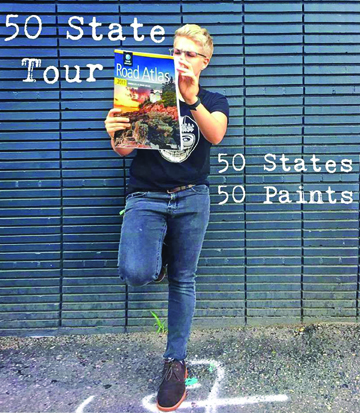 My route is mostly circular, while touching in and out of the centrally located states," she explains. She plans to take a ferry from Seattle to Alaska in September. She will travel by plane to Hawaii on the final week of the trip. "The route I have mapped will be avoiding both extreme winter and extreme summer. I will be mostly up North come
summer and down South during
the winter months," she notes.
The Glendale artist was born in Oregon and moved around frequently growing up. She relocated to Denver from Houston in Janu
ary 2017. She lived in Houston for six years. Her only major travel experience was a single trip from Houston up north and then down the West Coast in one extensive trip. "Other than that," she observes, "I have traveled frequently for recreation, mostly by car." Camp plans to keep costs down by staying mostly with friends, family, couch surfing, camping, and utilizing her car. Hotels will only be used on a need-be basis. "I do have quite a few relatives and acquaintances around the country and will be staying with as many of them as possible," she notes.
Chronicle readers can track Camp's progress on her website: www.artandaffect.com Readers will also be able to continually track her progress throughout the year, following the intended route via map, and of course, buy artwork. Moreover, her Instagram (@artandaffect) is also kept up-to-date with recent works and trip planning progress.