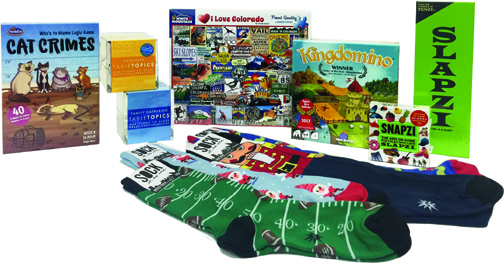 More And More Shoppers Bookmark This Independent Bookstore As Tranquil, Helpful And Bursting With Gift Ideas
Hey holiday shoppers, are you feeling overwhelmed? Are kids and chaos erupting from your shopping cart? Feel like collapsing on the couch with a glass of wine and waving the white flag of defeat?
As holiday shopping peaks in the big chain stores and begins to combine with parking headaches, road closures and congestion, much of the Cherry Creek shopping district is expected to reach paralysis. This year more than ever shopping is experiencing more than its share of killer plot twists. That's why Glendale's 45-year-old independently owned bookstore The Bookies is such electrifying news: It's filled with stories, games, craft kits, gifts, plots and twists in all the store's fun nooks and crannies.
For decades The Bookies has been the byword for inviting, comfortable and relaxed shopping during the holidays or any season. Like a good book, customers keep coming back to make sure they've read the last bit correctly. Or maybe missed something special. Regular shoppers tell the Chronicle, "Once you've been to the store it's like getting to the end of a book and wanting to flip it over and start at the beginning again."
Helpful Staff
After not being greeted and unable to find help in the Valley's growing list of corporate stores, it's the helpful, hands-on approach of The Bookies' staff that's so exceptional.
As we perused the aisles along with a multitude of customers and kids in tranquil, relaxing surroundings, it is the selection and incredibly helpful staff that is so noticeable. The staff is respectful to everyone who walks through the door and enjoys helping both kids and adults. Moreover, beyond being knowledgeable and quick to provide assistance and advice, they seem to enjoy what they're doing. Nowhere else will you find comparable or as consistent customer care and concern.
As the Valley's street and store traffic started to clog with befuddled customers, the employees took the Chronicle on a walk through The Bookies shopping intersections to give shoppers a peak at the dazzling gift options:
Jaw-Dropping Gifts
The Bookies is much bigger than it appears on the outside and they seem to have everything from puzzles and toys to games and books. They have stickers and crafts projects and neat little gizmos, not to mention the newest pens, pencils and coloring utensils.
To get the season started be sure to pick up a supply of Table Topics for when holiday guests arrive or to keep holiday parties and family gatherings going. They're wonderful discussion starters for all ages.
To help speed up your holiday shopping and be confident in the purchase, gift-giving ideas are arranged by age so the gifts won't be abandoned shortly after they're opened. Your idea list is fine-tuned by age and so you won't forget toddlers, older children or the old timers: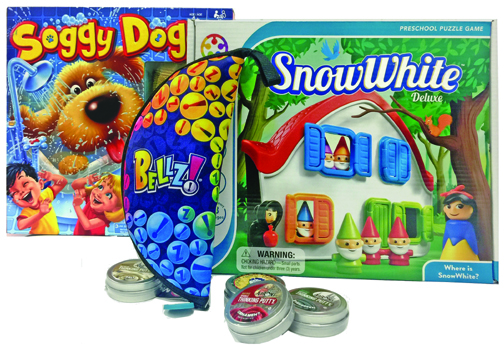 Ages Three & Up
Crazy Aaron's Thinking Putty: Great for stocking stuffers with names like Evergreen, Ornament, Icicle and Gelt.
Twister Tracks: Youngsters can design their own track and send their LED racecar cruising. Kids can easily change the direction and shape of the raceway.
Ages Four & Up
Snow White: This fairytale puzzle game introduces young children to logical thinking and can be played in two different ways. Best as gifts for ages four and five.
Soggy Doggy: Kids race around the board washing Soggy Doggy in the bathtub. But they have to be careful; if he shakes water it's back to the start.
Ages Six & Up
Roller Coaster Challenge: Single player game in which the player twists and turns their mind in an attempt to solve 40 different roller coaster challenges of varying difficulty. When the player believes the challenge is solved they give the car a push and watch it glide down the track to the finish line. Has easy, medium, hard and super hard levels of play.
Bellz!: Compact travel pouch game that can be taken anywhere. Players use the magnet wand to pick up the 10 bells in their color. The first person to complete the task wins. Fun but tricky!
Ages Seven & Up
Whipple Craft Creations: Youngsters have fun decorating a two-tier cake, cupcake, ice cream, macaroons and other yummy treats. Everything needed to craft your own fancy collectibles. You're your own pastry chef but remember they are for display only.
Ages Eight To Adult
Kingdomino: Game of the year winner in Germany. Players build their 5 x 5 Kingdom connecting dominoes and crowns. Strategy and luck make every game different.
Slapzi & Snapzi: A fast matching, card slapping picture game that now has an ex-tension. Snapzi will make the original game even more fun and challenging.
Cat Crimes: Using logic players try to figure out which cat committed the crime. There are 40 quick mysteries culminating in an "expert" level challenge.
Sock It To Me: Fun and funky socks for kids and adults that make fun gif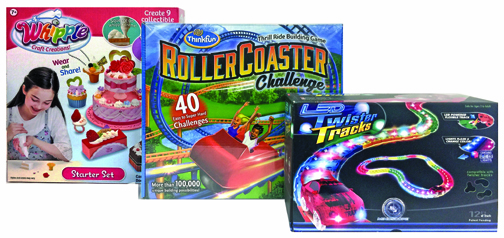 ts. Cool designs including holiday choices to unleash the person's inner super hero.
I Love Colorado Puzzle: A holiday gift the entire family will enjoy putting together. The 1,000 pieces feature iconic Colorado scenes from the past.
Book Ideas For Kids
Yak & Dove: A funny, charming book about complete opposites written by Kyo Macleak and beautifully illustrated by Esme Shapiro. Yak has fur and Dove has feathers. Yak is polite. Dove is ill mannered. Story whimsically captures the highs and lows of friendship through three interconnected tales of two very different friends.
Her Right Foot: A splendid nonfiction picture book for kids by Dave Eggers that casually conveys a powerful message about the Statue of Liberty. About more than history or art, what the book discovers in the Statue's right foot is a message of acceptance. Book conveys an important, timely message for the times in which we currently live in a fun and fascinating way.
Wishtree: By Newbery Award author Katherine Applegate, this is a moving friendship story that tackles anti-Muslim bigotry. The instance of hate is when a boy carves the word "leave" into their tree. The author crafts it into a sweet story laced with factual information about trees and animals in short chapters with illustrations.
Turtles All The Way Down: Another young adult classic from author John Green that will resonate with today's teenagers. In the beginning this novel seems like a conventional mystery. But as you continue it's clear the author's main focus is the teenage friendships and love interests, but with a twist in the telling.
Prisoner Of Azkaban: This is the third installment in the Harry Potter series and is darker, more complex and thus will appeal to older kids. Harry is back at Hogwarts Scho
ol of Witchcraft & Wizardry with Ron and Hermione. JK Rowling's words improve with each book while her characters remain funny and realistic.
A Journey Through A History Of Magic: For aspiring witches and wizards or any Harry Potter fan this 20th Anniversary book is a perfect gift. Created to support the British Library's Potter exhibition, it is a romp through the history of magic from alchemy to unicorns, ancient witchcraft to Harry's Hogwarts.
Adult In Season Books
The Rooster Bar: Former attorney and bestselling author John Grisham's newest legal thriller takes the reader inside a law firm that's on shaky ground. A trio of students are attending the for-profit law school seeking to escape debt by exposing a ba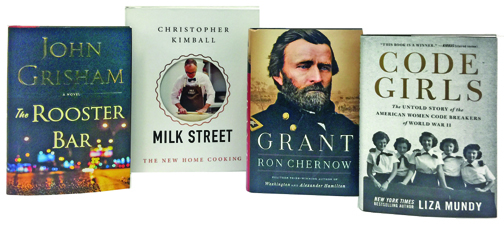 nk and the law school scam but will have to leave the school short of graduation.
Code Girls: Research and interviews by journalist and bestselling author Liza Mundy bring to life the fascinating story of how 10,000 young women recruited by the Army and Navy cracked the German and Japanese military codes. Riveting reading reveals the courage, service and accomplishment of these women during World War II.
Milk Street: For chefs, foodies and those who enjoy good food on your holiday list this book is the perfect gift. It has more than 125 recipes arranged by type of dish. They teach a simpler, bolder, healthier way to cook. Moreover, cooking will become an act of pure pleasure rather than a chore.
Grant: For those on your holiday list that love history this is an ideal gift, bringing to life one of the most underappreciated presidents. Prizewinning author Ron Chernow gives a rich and sensitive portrait of Grant from West Point cadet to civilian failure to triumphant general, written with honesty.
Gift-wrapping is complimentary at The Bookies during the holidays and throughout the year. Located just two blocks east of Colorado Blvd. on Mississippi, this is your perfect shopping script for bringing happiness home for the holidays. Information: 303-759-1117.