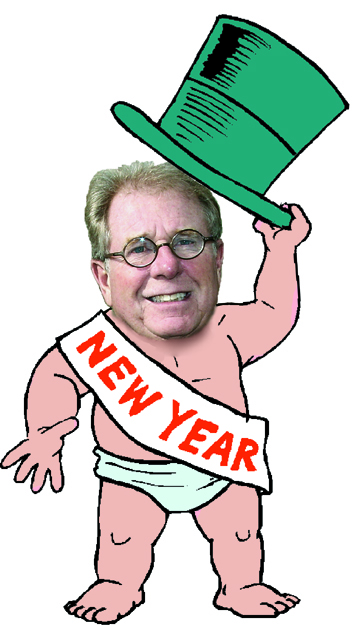 Governor John Hickenlooper — 2017 will be the end of the trail for the Governor. Getting off the sauce was a great career move and staying off of it for that 2020 run to dump GOP Senator Cory Gardner.

Denver Mayor Michael Hancock — don't go for the third term. Cash in while you can and get all the money developers promised you for destroying the City and County of Denver.

Commander-in-Chief Donald Trump — another year like 2017 and they'll put you on Mount Rushmore.

DPD Chief Robert White — in spite of that resounding vote of confidence from your rank and file do your level best to stay on the job.

Senator Cory Gardner — lucky the Chamber of Commerce promised you all those lobbying contracts because you are dead meat when Hickenlooper goes for the throat.

Congressman Jared Polis — two words — opposition research, put on your hat.

Tom Tancredo — once more into the breach. Wind in your sails and the Governor's mansion in '18.

The Denver Post — down to a skeleton crew but hope for an In and Out Burger in your new Adams County digs.

Denver's Television Stations — another year like this one and you'll be joining The Denver Post and be beaten by reruns of Gilligan's Island.

Denver's Sports Reporters and Broncos Fans — I hope you cease and desist the term "we." The team belongs to Annabel Bowlen and the "blood of the city."

To the loving couple Cynthia and Mike Coffman — welcome to the wide wide world of singledom. Recommend It's Just Lunch and Millionaires.com.

The Brownstein Law Firm — best of luck with the new Saudi king (winky winky).

Brandon Marshall — hope your appearance on the show To Tell the Truth goes well.

Denver District Attorney Beth McCann — if things go bad don't go in the shower.

Walker Stapleton — keep on reminding people you can choose your friends but not your relatives, ie. the Bushes.

Mike "The King" Dunafon — best of luck for the inaugural season for the Glendale Raptors and Major League Rugby.

Debbie Matthews — keep up the great billboards at Shotgun's.

George Brauchler — hope this run goes well but if this doesn't work out please don't join the Brownstein Law Firm.

Stephan Tubbs and Terry Frei — two very good guys. All the very best in the future; you didn't deserve what happened to you.
Happy New Year!