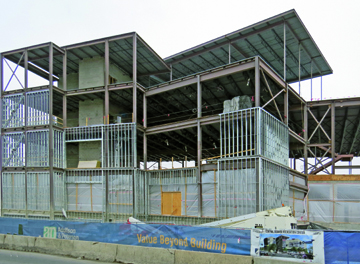 by Mark Smiley
With a budget of $24 million and a plan 14 years in the making, the Central Denver Recreation Center at Colfax Avenue and Josephine Street, near East High School and City Park should be open on schedule this fall. The 69,000 square foot facility, which will make it the largest recreation center in Denver, broke ground in November 2015. It will be named the Carla Madison Recreation Center, after the late Denver city councilmember who died of cancer in 2011 at the age of 54.
Site construction will include onsite parking, a dog park and the conversion of the east lane of Josephine to a parking lane from Colfax to 16th Avenue.
This facility will provide recreation opportunities to a currently underserved population in the surrounding areas. "This state-of-the-art recreational facility will provide greatly needed recreation opportunities to the community and the surrounding areas," said Happy Haynes, Executive Director of Denver Parks and Recreation. "Based on the neighboring population, close proximity to downtown and East High School, this facility is projected to be the most highly utilized recreation center in the Denver Parks and Recreation system serving Denver's dynamic urban core."
The five-level LEED Gold certified facility will include a leisure pool, eight-lane lap pool, gymnasium with a full-size basketball court and cardio-weight room, child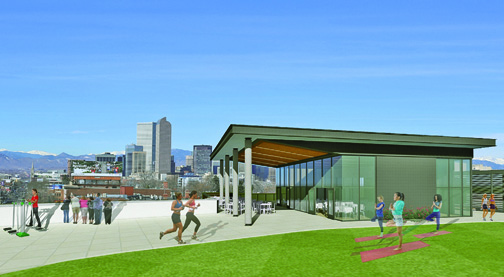 watch area, fitness areas, community gathering spaces, classrooms and outdoor amenities. The site will be designed in a way to create a new venue for community gathering.
This will include a rooftop event space with views to the Civic Center and a small, urban site focused on pedestrian connections to Colfax, East High School, neighborhoods and visual connections to Denver and the Front Range. Other planned amenities on the site include an outdoor climbing wall, 1/4-acre dog park, table tennis, slackline area, large picnic tables, onsite bike parking, a 15-bike B-Cycle station, climbing boulders and 130 parking spaces.
"As a kid, I went to Hiawatha Davis Rec Center every week, and sometimes, every day. Our rec centers do not just help us stay active and healthy, they can be the heart of our communities," Mayor Michael Hancock said. "Carla Madison Rec Center will be D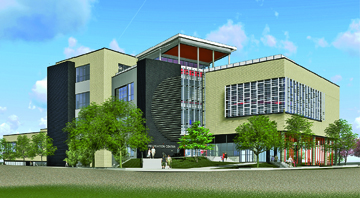 enver's largest recreation center once complete, and today's milestone is one more step to realizing a service that this community has deserved for a long time. I look forward to the final build out so our residents in central Denver have a new place to be happy, healthy and active together."
The last recreation center to open was the Central Park Recreation Center in Stapleton in 2011. To fund this project, the City will apply proceeds from the sale of Market Street Station to finance the majority of the costs to construct the Central Denver Recreation Center, supplemented by cash in the City's TABOR Special Revenue Fund.
The Denver Parks and Recreation system spans over a 148-year history, from the first park created in 1868 to nearly 20,000 acres of urban parks and mountain parkland today. For more information, visit www.denvergov.org/parksandrecreation.