By Mark Smiley
Families who reside in the Cherry Creek Valley considering a "staycation" should give serious thought to Great Wolf Lodge in Colorado Springs. The family vacation resort opened in January, 2016, and features a 50,000-square foot indoor water park. The $100 Million resort is situated North of Colorado Springs and is just over a one hour drive from Denver making it a logistically simple getaway.
The Colorado Springs resort is one of 14 by the Wisconsin based business. Three more are under construction including locations in Minneapolis, MN (opening December, 2017), LaGrange, GA (opening Spring, 2018) and Gurnee, IL (opening Summer, 2018). The first opened in the Wisconsin Dells in 1997.
The main attraction is the indoor water park which has slides and thrill rides for kids and adults of all ages as well as a wave pool. Only guests of the hotel are able to use the water park which makes for an exclusive experience and keeps the crowds to a minimum. In addition, after checkout, guests can continue to enjoy the water park until it closes at 9 p.m.
The surprising part for most guests is there is more to do beyond the water park. The resort features a climbing wall, ropes course, a digital scavenger hunt which electronically captures achievements of its participants with a tracked score, a nail salon with an ice cream theme, mini golf, bowling, arcade, and kiosks set up to offer personalized bracelets and temporary tattoos.
The best value is to purchase a Wolf Pass which allows guests to experience these items for the inclusive price of $99 (when purchased in advance). The ropes course features unlimited attempts. Everything is indoors which makes it an ideal destination during extremely hot or cold weather.
In addition to the above offerings, the resort features dance parties and story time where the animatronic figures come to life to sing songs for the little ones. It is an easy way to wind down while having the children in pajamas with a short elevator ride up to the guest room.
Guest rooms range in size from a standard room to suites including a separate den for the kids to offer privacy for the parents. They include a separate television with plenty of kids programming offered. They all offer mini fridges and microwaves.
There are ample dining options inside the resort including pizza, quick appetizers, and a buffet geared mostly to the younger population. Ben and Jerry's and Dunkin' Donuts are guest favorites located on the way to the water park. They are convenient options to grab a cup of coffee or a cold treat.
While convenience is one of the selling points to the Great Wolf Lodge, some guests opt to visit nearby restaurants for lunch and dinner for a change of scenery. There are a number of restaurants and businesses nearby including The Summit, Colorado Mountain Brewery, and Jersey Mike's.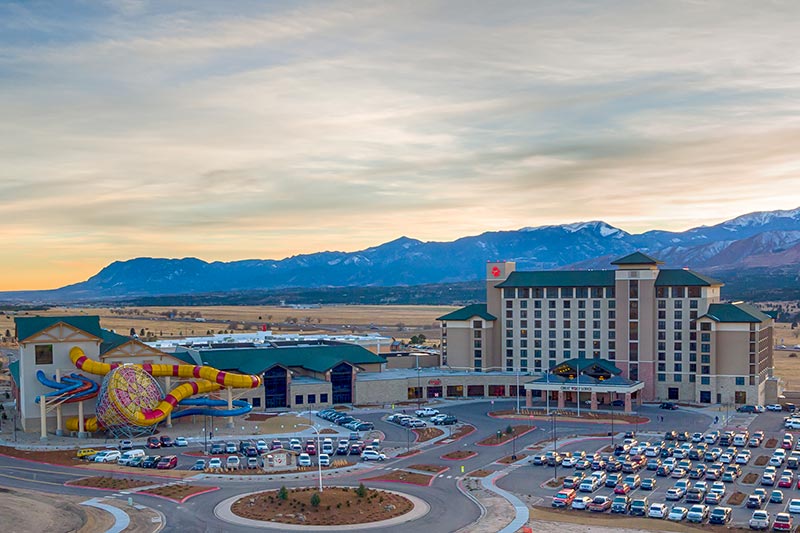 The most notable attributes of the resort are the friendly staff members, clean suites, and an immaculate lobby that also has a big fireplace. Big windows give guests nice views of the Rockies as well.
If a family is looking for a quick getaway offering convenience, fun, and thrills, it is tough to beat the Great Wolf Lodge. For more information, visit www.greatwolf.com/colorado-springs. Follow them on Twitter @GreatWolfLodge and Facebook @GWLColoradoSprings.