By Richard Colaizzi
Hope Springs Eternal.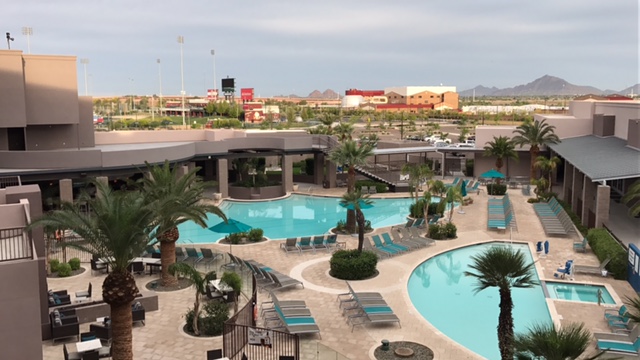 Thousands upon thousands of major league baseball fans make the yearly trek south to one of two warm weather states every March. The Cactus League and Grapefruit League are aptly titled for the locales they take place in. Florida and Arizona are homes for Spring Training baseball to all 30 Major League teams. A fresh start to a new season where optimism is the norm for all baseball fans alike. This reporter lives in a state where March is often as cold as any other month of winter, so when deciding to take a vacation for spring break, Arizona became an easy choice.
This March the trip takes us to the Cactus League and Phoenix metro area, spring training home to 15 MLB teams. The hometown Colorado Rockies, the San Francisco Giants and the World Series Champion Chicago Cubs all reside here. Attendance has been growing year after year in the Cactus League. This year, records were broken all over the league with attendance topping 1.9 million fans from Feb 24 to April 2.
Five different teams set attendance records at their home parks. The Cubs lead the way this year, for the fourth consecutive year, with 226,935 fans attending their home games at Sloan Park. The Cleveland Indians, fresh off their World Series appearance against the Cubs, also had a huge spike in attendance, averaging nearly 1,000 more fans a game than previous years. Combining America's pastime, near perfect weather, family friendly ballparks and optimism provides a perfect combination for a spring break travel destination.
This trip focuses on the World Series champion Chicago Cubs. The Cubs have the newest ballpark and spring training facility in the Cactus League. Top notch facilities and lots of family activities are located close by. There is a brand new Sheraton hotel located on the property, aptly named Wrigleyville West. Rooms were booked in late August, and once the Cubs won the World Series the remain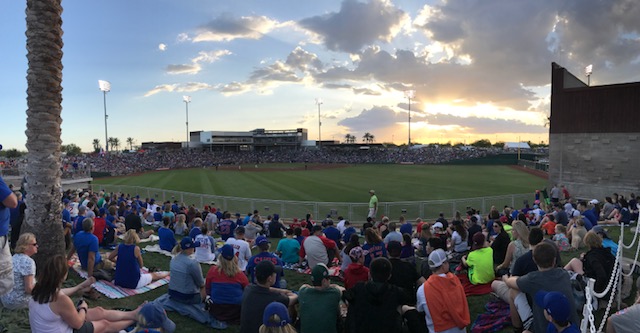 ing rooms sold out quickly. Expect to pay between $200-$300/night for your accommodations. The hotel facility has 180 rooms with 59 suites including 3 resort style pools, three onsite restaurants, a Starbucks and an onsite salon.
They are family friendly with the pools being the main attraction. Palm trees and pool chairs surround the pools with plenty of space for large groups. There is also a fire pit area, hot tub and small grass lawn to relax in. Families are welcomed with plenty of other surrounding activities as well. Riverview Park is just steps away and includes a huge splash pad, playground area and multiple playing fields for kids and families alike. There is a good sized lake for fishing at the park as well. The park is separate from the hotel and always had a crowd utilizing it from sun up until sun down. Parking can be at a premium on game days, but once the game is over it's a great gathering spot for all.
The Sheraton itself is just 2 years old, and you can tell they are still working on the details when it comes to hosting so many people in such a short period of time. The hotel staff is friendly and accommodating. Perhaps the most important fact, there are plenty of them around to help when you need them. The food and beverage options are plentiful, but staffing and overall efficiency of the restaurants can be a bit frustrating for those with kids. The food is your typical ballpark/sports bar themed food with some local flare. The bar itself has multiple adult drink options with a nice focus on local craft beer. It's hot in Arizona, so an ice cold beverage by the pool really hits the spot. They have Happy Hour every day and for being a hotel, the prices for both the food and drinks are very reasonable.
All of the Cactus League ballparks are located in the Phoenix metro area. That doesn't mean they are close together. You can expect to drive over an hour if you are traveling between some ballparks, especially with traffic and rush hour. Plan accordingly.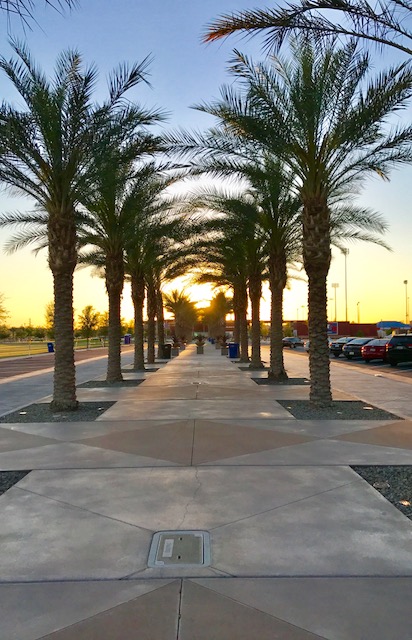 For all the local Rockies fans reading….Salt River Fields at Talking Stick is the first major league spring training facility to be built on Indian land in the nation. The Colorado Rockies home park is shared with the Arizona Diamondbacks. They also boast one of the newer facilities in the league. Salt River Fields is a sprawling complex with 12 baseball fields, including an 11,000 seat stadium. The facility opened in 2011 and is still like new.
If you are looking for somewhere to stay near this complex, look no further than Talking Stick Resort and Casino. The luxurious Scottsdale resort is just minutes from the ballpark. There are also plenty of other major chain hotels located in close proximity to the ballpark complex.
Every ballpark in the Cactus League is family friendly with a focus on affordability. Each field has a lawn or berm seating area where families may bring in blankets, backpacks and other items for the kiddos. Those tickets, when purchased in advance can be as inexpensive as $7/ticket. Sunscreen is a must, shade is often at a premium or simply non- existent. Most of the parks will allow you to bring in unopened, non –alcoholic beverages as well. Staying hydrated in the heat is also a good idea. Tickets can sell out fast, especially for the more popular teams and venues. The spring training schedule usually comes out in December or January and tickets will go on sale shortly after, so plan on buying those tickets early and you can save money. To this man's surprise, there is a secondary ticket market for some teams. Scalpers were present at every game I attended. Buyer beware and plan ahead.
The ballparks this reporter visited this past March included Sloan Park and Goodyear Park. Both of those facilities had plenty of other kid attractions available at no additional cost. Sloan Park has a miniature kid baseball field located behind center field for the endless energy bundles you bring to the game. There is also a bounce house area, complete with a shave ice truck to help you cool down! Goodyear has a similar bounce house area, with a huge grass field behind the first baseline where you can sit and have a picnic or just let the little ones runaround.
All parks have plentiful food selections, geared towards that teams local favorites. The San Francisco Giants ballpark in Scottsdale, specializes in Garlic Fries while at Sloan Park you can get a Chicago Dog or a Portillo's Italian Beef sandwich.
When it comes to actual baseball, expect to see your favorite teams stars for just a couple of innings. The later in the spring, the longer they may play, but very few play the entire 9 innings. If you are excited to watch Nolan Arenado or Mike Trout and you arrive in the 5th inning, you may be out of luck. After your favorites exit the game, it's a good time to get to know the young and up and coming stars for your team Minor leaguers make up most of the roster in the spring, sit back and enjoy all the passion that those players bring to the field every day. They are fighting for their careers and every play matters to them.
Spring Training is the best time of the baseball season to get an autograph. Players are more accessible during this month than any time of the year. Teams often have designated areas in which autographs are easily attainable for all. Just remember, kids first. Don't be that guy who pushes or cuts in front of a kid just to get your favorite players signature on a ball you intend to sell on E-bay.
Phoenix metro area has plenty of other attractions for those who aren't as into the baseball part of the trip. There are outlet malls in Chandler and high end shopping in Scottsdale. There are water parks and the Phoenix Zoo as well.
For those looking to escape the colder weather month of March, Phoenix and spring training baseball are definitely the way to go. Nothing beats a home run ball caught with your son on the lawn while watching a desert sunset.