by Josh Schlossberg
The Denver Zoo is more than halfway through the construction of a first-of-its-kind energy facility to be fueled by elephant manure and trash — including plastic and food scraps — that would provide 20 percent of the Zoo's electricity, and heat its elephant exhibit.
The self-described "greenest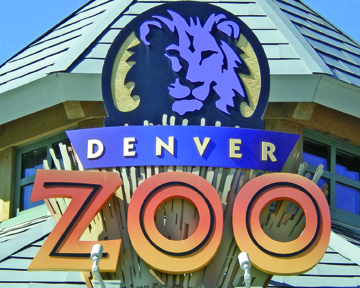 zoo in the country" is framing its plan to convert millions of pounds of annual waste into an alternative fuel source as an environmental leap forward that will help it achieve its goal of Zero Waste by 2025.
Critics, however, including local residents, the Rocky Mountain Chapter of the Sierra Club, the former director of the American Environmental Health Studies Project, and a U.S. Environmental Protection Agency (EPA) scientist, voice concerns ranging from air pollution, undermining of recycling and composting efforts, and environmental justice issues.
The Denver Zoo declined requests by this reporter for a tour, interview, or statement for this article.
Green Light For Green Energy?
The Zoo's "biomass gasification system" has been 10 years in the making, developed by Zoo staff in partnership with the City and County of Denver, National Renewable Energy Labs, Colorado Department of Public Health and Environment (CDPHE), Colorado School of Mines, and University of Colorado.
The facility, which is 50 to 75 percent installed, according to minutes from a June 3, 2015, Denver Zoological Foundation meeting, is located in the Toyota Elephant Passage Exhibit on the Zoo's southern boundary, adjacent to Duck Lake in City Park.
The project has undergone technical review by CDPHE and the City Council, received its construction permit, and is awaiting approval for an air permit. The State also issued water quality and sewer use permits, though a wastewater permit will not be granted until the facility is operational and liquid waste can be analyzed for potential contaminants.
Fuel To The Fire
The Denver Zoo gasifier will source its fuel from 750,000 pounds of elephant dung per year, along with 3 million pounds of waste from the zoo and outside sources, including: wood chips, food waste, waste paper, biodegradable plastic, non-biodegradable plastic, aluminum and other metals, according to a June 20, 2013, email exchange between EPA and CDPHE. Denver Zoological Foundation minutes state that fuel will be "87-89% biomass depending on the season."
The materials will be shredded, dried, and converted into pellets and exposed to high temperatures in a low-oxygen environment to create a combustible synthetic gas (syngas), that will be mixed with natural gas to power generators, supplying 20% of the Zoo's electricity. The leftover heat will run through pipes to heat the Toyota Elephant Passage Exhibit.
The facility is permitted as a controlled partial combustion system, with some aspects of the technology kept from the public as trade secrets. Trash and biomass gasifiers are still in the experimental stages and "not yet proven in commercial applications," according to the National Renewable Energy Labs.
While the Zoo has avoided the use of the term incinerator, the EPA-funded Combustion Portal defines an OSWI (Other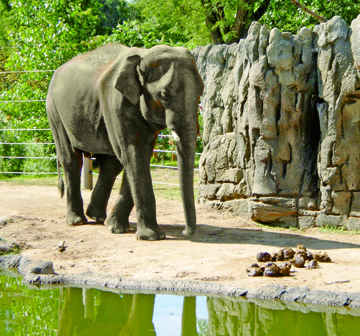 Solid Waste Incinerator) as "incinerators that due to their small size or other characteristics are not covered under other incinerator air emissions regulations." The Zoo's Engineering Design and Operations Plan (EDOP) states that the Zoo will follow the OSWI requirements, while referring to the "incineration (thermal conversion) of waste material."
The construction permit issued by CDPHE explains that the facility will utilize a thermal oxidizer — which the EPA refers to as a thermal incinerator — for start up and shut down, where excess gas will be combusted in a flare.
Zoo staff will remove tars that build up in the scrubber and send them through the gasifier. Up to 60,000 pounds of ash per year will be a byproduct of operations, which will be landfilled.
The Solution To Pollution
The facility's potential impact on local air quality and effects on public health is the main concern of neighbors.
According to the construction permit, the facility can emit up to the following levels of air pollutants per year: 6.3 tons of particulate matter (PM), 6.3 tons of PM 10, 6.3 tons of PM 2.5, (which can cause lung disease), 14.6 tons of Nitrogen Oxides (respiratory problems), 0.22 tons of Sulfur Dioxide (respiratory), 9.3 tons of Volatile Organic Compounds (which are carcinogenic), and 31.8 tons of Carbon Monoxide (reduces oxygen to heart, brain, and tissues).
The Zoo will also emit small amounts of dioxins, which, according to the EPA, are "highly toxic and can cause cancer, reproductive and development problems, damage to the immune system, and can interfere with hormones."
Paul Connett, PhD, former director of the American Environmental Health Studies Project and author of the book Zero Waste Solution, spoke at the Ford-Warren Branch of Denver Public Library on July 30 about the health and environmental impacts of trash incineration and gasification.
"You should not be conducting such experiments in a residential area or near exotic animals that may be super sensitive to some of the air pollutants," said Connett of the Zoo's gasifier. "This project can only be considered an ongoing experiment."
Joan Seeman, Toxics Issue Chair of the Rocky Mountain Chapter of the Sierra Club, said the group "does not support the Denver Zoo's waste to energy incineration system."
"It has proven impossible for industry to develop a combustion process that does not produce unacceptable toxic and hazardous air emissions," said Seeman.
Bridget Walsh, a City Park neighbor, and one of the leading voices against the Zoo's facility, said the Zoo's presentation of the facility to the public has been "lacking in detail about serious health and safety risks."
The siting of the facility has also attracted the attention of the federal government. Kendra Morrison, environmental scientist for the U.S. Environmental Protection Agency's Air Permitting, Modeling, and Monitoring Unit, wrote in a June 19, 2013, email to CDPHE that that facility is being built in the "heart of the city near sensitive populations, both in terms of EJ [environmental justice] communities and ecological populations."
Environmental justice, as defined by EPA, includes "fair treatment and meaningful involvement of all people regardless of race, color, national origin, or income."
Waste Not, Want Not
The Denver Zoo characterizes the facility as part of its plan to achieve Zero Waste by 2025. However, Zero Waste International Alliance, which has adopted a peer-reviewed internationally accepted definition of Zero Waste, defines it as products or processes that "conserve and recover all resources, and not burn or bury them."
Kate Bailey, Program Developer for Eco-Cycle, a community recycling processor and Zero Waste advocacy organization based in Boulder, doesn't buy the Zoo's Zero Waste claims.
"We believe that materials should be recycled or composted first," said Bailey. "Our understanding is that this facility is taking away some of these materials that can be recycled and fed to the plant instead, undermining current recycling efforts."
Currently, the 750,000 yearly pounds of elephant manure is routed through an undisputed Zero Waste pathway, A1 Organics. The industrial composting company based in Eaton, Colorado, has been processing the material into compost for soil amendments for years.
"We've enjoyed our relationship and love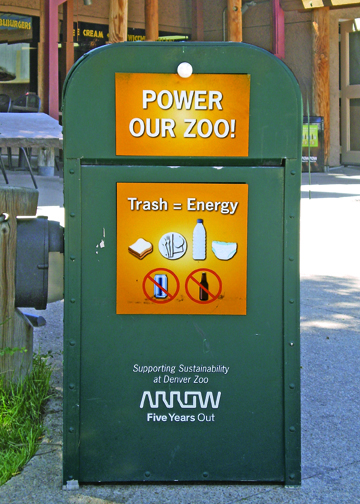 d the product and always been willing to compost it," said Bob Yost, Vice President and Chief Technical Officer for A1 Organics.
The 60,000 yearly pounds of ash produced by the facility, destined for the landfill, will contain varying levels of heavy metals including arsenic, barium, chromium, cadmium, lead, selenium, and silver. Other waste byproducts include scrubber residues, which consist of tars, liquids, and acids.
Passing Gas
Though the gasifier has been advertised by the Zoo as an alternative energy facility powered by renewable energy, it will also burn up to 7 MMBTU/hr of natural gas, along with trash and manure.
According to a plaque at the Zoo, Encana Oil & Gas gave $500,000+ to the project, while Pioneer Natural Resources (which closed its Denver office in May) made a $25,000-99,000 financial contribution, to "show the public how natural gas can solve both economic and environmental challenges."
Western Energy Alliance, "the voice of the Western oil and natural gas industry," donated "under" $25,000. On its website, the Alliance refers to "overregulation at the federal level" of oil and gas production, including the controversial practice of hydraulic fracturing or fracking for natural gas. Mesa Energy Partners, an oil and gas development firm, also contributed "under" $25,000.
Safety First
Aside from the routine emissions from the facility, some neighbors worry about accidents that may pose a risk to the public.
The Zoo produced a January 2014 document detailing what would happen in case of an "upset condition," which can involve temperature or pressure exceedance, high levels of carbon monoxide or hydrogen, or other malfunctions and errors. In these cases, the gas would be directed through a release valve on the roof of the facility or through the flare, and operations would be shut down.
Waste-to-Energy Plant Process Safety Challenges, a 2011 study from the UK, notes that gasification facilities involve safety issues similar to chemical process plants, warning of "explosion hazards, fire hazards and toxic gas."
Intelligent Energy for Europe, a project of the European Commission to support renewable energy, delineates some dangers of gasifiers in their 2009 document, Final Guideline for Safe and Eco-Friendly Gasification, specifically "increased hazard potential due to the fact that a potentially explosive, toxic and combustible gas mixture is produced and consumed."
"Poisoning, danger of suffocation…and pollution of the environment and plant vicinity," from the release of hazardous gases and liquids, are noted. Where pressure builds up, gas can escape into the atmosphere resulting in a "toxic atmosphere."
Toxic liquid escapes can lead to environmental hazards and pollution." If flammable, there is the risk of formation of "a combustible vapour cloud."
Green Or Gross?
The Denver Zoo has invested millions of dollars to generate a fifth of its electricity through its waste stream, and in doing so, has gotten pushback from locals, advocacy groups, and scientists. Will the Zoo's installation of this experimental "waste-to-energy" facility ultimately enhance the Zoo's green profile, as intended, or will it sour relationships with Denver residents, neighborhood associations, and environmentalists?
Many questions remain in regard to sustainability, air pollution, and environmental justice issues surrounding the project and resident complaints of the Zoo's unwillingness to communicate with them only fuel the controversy.
Since Zoo officials have chosen not to engage in further dialogue with Denver residents nor speak with the media, unless the project falls through, it seems that questions will only be answered once the facility is up and running.