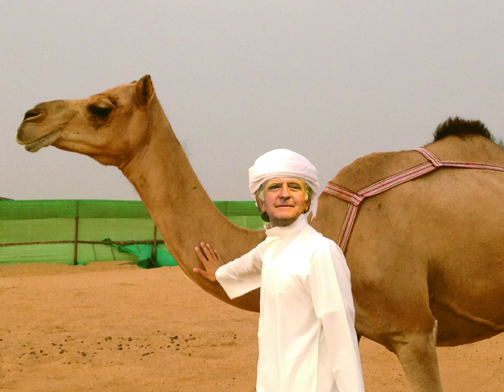 Saudi Arabian wealth has many surrogates in the state of Colorado. The powerful shadow and overreach of the Kingdom of Saudi Arabia into the offices of power and influence in Colorado grows daily. Its tentacles reach into former Governor Bill Owens, Colorado Springs Mayor John Suthers, Governor John Hickenlooper, attorney Hal Haddon, attorney Jack Finlaw, former United States Attorney General for the District of Colorado Henry Solano and perhaps most shocking, super lawyer and lobbyist Norman Brownstein who is beginning to be called in some circles "Norm of Arabia."
In several past columns, we attempted to chronicle the ties of the wealthy Saudi Arabian royal family and the Saudi government to Colorado.
But I believe it's time to go to 25-thousand feet and really attempt to do an overview of how much influence the Saudi Arabians have in the Bush administration, the Obama administration, the Hickenlooper administration and perhaps as far back as Bill Owens' tenure as governor of Colorado.
These wealthy Saudis, I believe, have had an enormous influence in politics, criminal justice, the media and both the Republican and Democratic parties.
If you remember what's now known as "The 28 Pages" is really a "who dun it" of what happened on that terrible day of 9/11 and the involvement of the Saudi Arabians. That's the view from 25-thousand feet.
When we come closer to the ground, we find the power of the Saudi Arabians so entrenched that they can have a sitting Attorney General of Colorado fly to Saudi Arabia on the behest of Republican Governor. That fact strikes fears in political circles in Colorado even in the Colorado media members.
It has become clear that Saudi Arabians were at the center of that terrible day of 9/11. George Bush and the dark lord Dick Cheney had those 28 pages in the Congressional Committee Report suppressed. Those were the 28 pages that spoke directly to Saudi Arabian planning and involvement in that terrible day.
We know of the meetings that George Bush had with Prince Bandar. We know Bush and Cheney created a false link between Iraq and 9/11. Secretary of Defense Donald Rumsfeld claimed, "My interest is to hit Saddam." The phony Bush terrorism reports tried to link Saddam Hussein into Al Qaeda and 9/11
What great sadness. The real culprits have never been held accountable.
Here in Denver, as they say "the river runs through it." Take the case of Homaidan al Turki, the man who was convicted of holding an Indonesian woman as a sex slave in the basement of his Highlands Ranch home.
He was convicted of 12 felony counts including false imprisonment, unlawful sexual contact theft and criminal extortion.
He was sentenced eventually to a minimum of eight years in prison but Governor Bill Owens feels obligated to sends his then Attorney General John Suthers (current Mayor of Colorado Springs) to Saudi Arabia to tell wealthy Saudi Arabians, including the King about our criminal justice system as it relates to Homaidan al Turki.
Since the last time I wrote about this I received a phone call from former Governor Owens who told me that on his own he decided to send Suthers to meet King Abdullah. Nice try.
I don't buy it.
With all respect governor, why did your office not return requests from Congressman Tom Tancredo's office about who paid for the trip, how many people went on the trip, the purpose of the trip and why you decided to send Suthers?
Suthers flew 19 hours and we're not sure if you as the taxpayers paid for this. The Bush administration paid. And Suthers now claims King Abdullah offered to reimburse the tab. Suthers also called it the adventure of a lifetime.
As has been stated before. For God's sake, you're the attorney general of Colorado, not Saudi Arabia.
Does anyone else wonder how much money it takes to become Mayor of Colorado Springs?
But if it had ended there it would probably be no big deal. Just Republicans and Saudi Arabians. The Bushes and others doing what they do.
But the next chapter really gets dark.
Remember earlier we spoke about the 28 pages? Every high priced, fast-gunned lawyer that the Saudis could hire tried to make al Turki a young man studying for his doctorate in linguistics. But when we finally get a glimpse of the 28 pages guess who appears?? That's right. Homaidan al Turki. You little dickens.
We now know he was in communication with the 9/11 conspirators in Germany. In the weeks and months before 9/11. Homaidan and his friend Anwar al-Awlaki (himself killed by a U.S. drone strike in Yemen in 2011) was at the time living here in Denver doing his incredible series titled "The Lives of the Prophets." A series of Islamic history recordings made by Alwaki in the 1990s. Just a couple of funsters.
Al Turki appears and reappears some 14 times in the suppressed 28 pages. I'm sure al Turki thought about flying back to Saudi Arabia but he and other royal family members were being protected by George W. Bush. Why run?
I believe the Saudis thought they could buy al Turki out of Colorado. We're led to believe that his ouster from the penal system was good to go, the work of fast John Hickenlooper's attorney Jack Finlaw, criminal attorney Hal Haddon and various others all working to get the "innocent" little guy back to Saudi Arabia where he would simply walk away. It didn't happen that way and I believe that set up the murder of Department of Corrections Chief Tom Clements and pizza delivery man Nathan Leon.
Most people have heard that story. But the Front Range media covered up the truth of it so many times that I really don't know what the average person believes about those two murders.
We can, however, read in the Texas Rangers' report that Jack Ebel, father of Clement's murderer and 2/11 gang member Evan Ebel was indirectly involved with 211 prison gang because of his son. Jack Ebel is also a longtime friend of Governor John Hickenlooper. Evan Ebel I believe was simply carrying out the wishes of the wealthy Saudi families.
To add insult to injury the Saudis are now attempting to knock down JASTA, the legislation that will now allow 9/11 victims' families and survivors to sue Saudi Arabia. Once again money changes hands in Colorado.
The Saudis hire Norm of Arabia's prestigious law firm, Brownstein Hyatt Farber Schreck, who are now doing everything they can to help the Saudis to the tune of $100,000 a month.
Learn anything? I know I have. None of these people are to be trusted.
Thanks for reading this.
Watch the skies.
— Peter