60,000 Attend The 36th Annual Event
by Casey Bloyer and Mark Smiley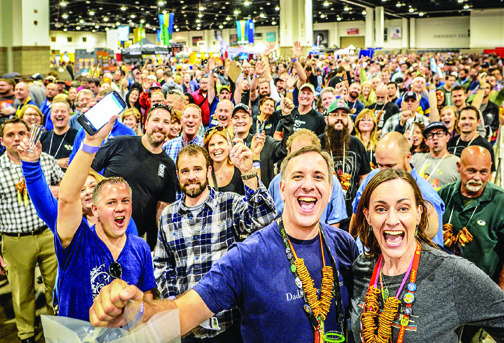 The 36th Annual Great American Beer Festival (GABF) was held October 5-7, 2017, at the Colorado Convention Center. Over 800 breweries poured 3,900 beers over the three-day fest hosted by the Brewers Association. Attendees surpassed 60,000 making it the largest attended GABF ever. It has come a long way since 1982 when it was held at the Harvest House Hotel in Boulder. There were 24 breweries, 47 beers and 800 attendees back then.
The state of Colorado won 38 medals as Glendale's very own Bull & Bush Brewery took home a bronze medal for their Wood- and Barrel-Aged Beer called Woody Pils. Colorado tied their total from last year with an impressive lineup of entries. As an attendee who lives in Denver, it is nice to support the home team but it is also an opportunity to taste beers that are otherwise unavailable in this state. And, it is a chance to sample beers that are just starting distribution in Colorado such as Surly Brewing Company from Minneapolis, Minnesota, and Two Roads Brewing Company from Stratford, Connecticut.
"Having just launched our beers in the Colorado market, it was a great opportunity to gain brand recognition locally," said Lizzy Shpitalnik, Colorado Sales Manager for Two Roads Brewing Company. "We also had Two Roads staff at the booth pouring our ten offerings at all times, so we were able to connect with festival goers on a deeper level."
Two Roads was also invited to an event called What the Funk hosted by Crooked Stave Artisans. This event was one of many held outside the confines of the Colorado Convention Center. On Wednesday, October 4, 2017, The Studios at Overland Crossing played host to this year's event. Attendees were treated to rare beers and adventurous concoctions that served as a great lead in to this year's GABF.
The crew of Brewski-Reviewski not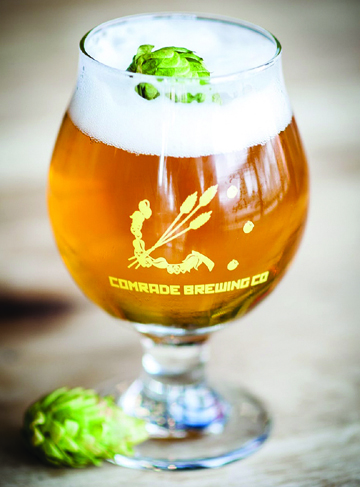 only attended the three day GABF but also covered many of these events in and around town to see how they enhanced the week dedicated to beer.
Thursday, October 5, opening night of GABF, the crew started the first hour at the festival getting a feel for the layout of the hall so they would be able to easily navigate it on Saturday, October 7, after the awards ceremony. After that, it was off to Epic Brewing for the 5th annual 50 Firkin Fiasco.
The event was set up throughout the brewery with 50 specialty beers they brewed and collaborated with other breweries. Epic did not disappoint on this, with beers scattered everywhere to taste, and live music to set the mood. From standard beers like IPAs and stouts to beers brewed with sage and even one with Swedish Fish, this is a recommended event for next year.
Bierstadt Lagerhaus was the venue for the Beer Hall Brawl with Melvin Brewing from Wyoming. This event could be characterized by one word: crazy. The crew from these two places combined the in-house beer from Bierstadt with Melvin, having Hacksaw Jim Duggan wrestling with the team from Rocky Mountain Pro Wrestlers. The crowd enjoyed the theatrics of the wrestlers with some great German style beers.
Friday morning had two interesting events to choose from. Samuel Adams hosted its annual Brewers Brunch at Marlowe's off 16th Street Mall. And, Oskar Blues promoted a Friends and Family Backstage Pass and Tour with a bus from Denver to the brewery in Longmont.
The Brewers Brunch organized and hosted by Samuel Adams is a
time-honored tradition and a chance for beer enthusiasts to engage in conversations about all things craft beer. Jim Koch, founder of Samuel Adams kicked off the event welcoming the capacity crowd to Denver. Koch started Samuel Adams in his kitchen in 1984 when imported and domestic beers were the only options for beer lovers.
A panel moderated by Bob Pease, President and CEO of the Brewers Association, included Koch and other craft brewers who shared their stories on what makes their breweries successful and the challenges they face.
Samuel Adams capped off the event by introducing its newest beer that will hit the market early next year called Sam '76. It's a beer that takes two active fermentations and blends them together with Cascade, Citra, Mosaic, Simcoe and Galaxy hops. It imparts a tropical citrus aroma that gives way to a bright, juicy citrus hop flavor but without the hop bitterness.
Turning to the Oskar Blues event, media and guests were greeted at the Longmont brewery with a pint of Fresh Hop Pale Ale. There were six groups each with 15-18 guests to walk through the brewery with head brewer Tim Matthews.
Part of the tour focused on the actual science that goes into the brewing process. The tour was followed up with a lunch provided by CHUBurger by Oskar Blues while Matthews described what goes into four of their beers: Mamm's Little Pils, Pinner, Dales Pale Ale, and IPA. All in all, a tour at Oskar Blues is a good experience. They conduct tours every day of the week. Visit www. oskarblues.com for more information.
On Friday afternoon, Avery hosted a guided tasting with brewer Andy Parker at Hayter's & Co. in LODO. Parker described each of the beers on sample at the ro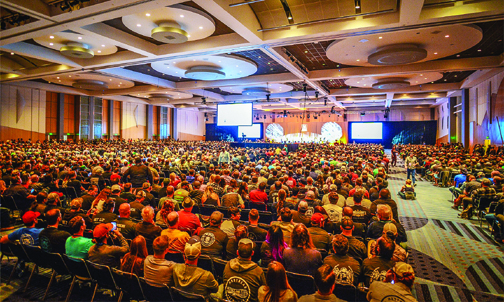 oftop event while guests sampled them all. It allowed for plenty of time to try many of the beers offered by Avery and make it to the GABF on time.
The Awards Ceremony is the key event for brewers and a big part of why they participate in the festival. It is a chance for smaller breweries to win a medal and be recognized for the hard work they put into their beers. The medal winners were announced on Saturday morning, October 7.
Launch Pad Brewery in Aurora is a small brewery that took home a silver medal for session beers with a beer called Peacekeeper. "It's a bigger feeling than I thought it would be, and it's great to be recognized by your peers for your hard work," said David Levesque, owner of Launch Pad Brewery.
The 37th Annual GABF will once again be held at the Colorado Convention Center but earlier in 2018. It will be held from September 20-22, 2018. Visit www.great americanbeerfestival.com for more details.
To listen to interviews with brewers, visit www.brewski-reviewski.podbean.com.