by Ruthy Wexler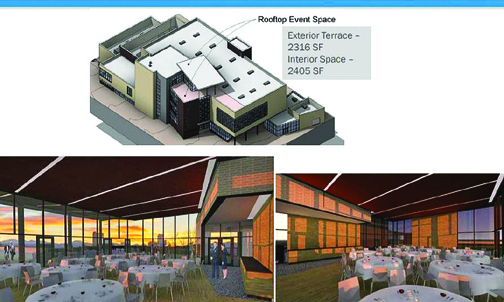 The Carla Madison Recreation Center, under construction for two years at the corner of Josephine and East Colfax, will officially open mid-December. Like its namesake, the center intends for a wide variety of citizens to have the very best.
Multi-leveled and multi-colored, the 62,000 square-foot building features: two swimming pools (leisure and lap); a rooftop deck; a gymnasium with full-size basketball court; cardio-weight and exercise rooms; a child watch area; classrooms and gathering spaces — as well as an outdoor plaza complete with picnic and ping pong tables, a bouldering wall, bike station and slackline area.
Soon, roughly 30,000 monthly visitors will enjoy this state-of-the-art haven in Denver's urban core.
How Carla Madison — City Council representative for District 8 from 2007 until her death in 2011 — would have loved it!
No One Like Her
With her bright orange hair and costume-like outfits, Madison didn't look like a politician. Nor — beaming at all and sundry as she dashed about town on her orange scooter — did she act like one.
"We all looked forward to seeing what she would have on," said a colleague, recalling Madison's outrageous headgear. "Once she wore c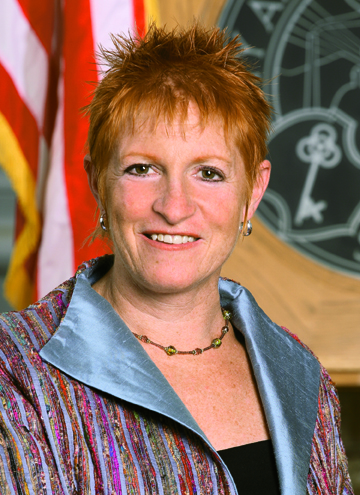 at ears to a meeting!"
But representing her district was no joke to Madison, who worked 16-hour days and cared deeply about health care, historic preservation and zoning. Her approach to policy, said Governor John Hickenlooper, was "thoughtful and pragmatic."
He added, "There is and never was anyone like her."
Unopposed
Madison stood out in this way, too: I could not find one word spoken against her — a rare phenomenon in politics.
Even before her death brought out the accolades, politicians of all persuasions praised Madison's kindness and generosity.
"If I was having a bad day," said Hickenlooper, "I would seek Carla out for the tonic of her company."
Madison — who worked as a mapmaker and physical therapist before entering politics — considered herself an artist. But her greatest work of art was her life, where she shaped each day with such joyful sincerity, cynicism faded in her presence. She'd finished her first term and was running unopposed for her second when Madison succumbed to the cancer she'd been battling and died at age 54.
Connections
"We didn't know Carla," says Craig Bouck, CEO of Barker Rinker Seacat (BRS), the Denver architecture firm that designed the new center. "But talking to people who did, her values inspired us. With her name, the word 'connect' always came up. She believed in the power of connection. And we thought about that.
"What we did was take the front of the building and pull it away from the street — just a bit — to create a covered porch. This is where people can stop, engage, mingle …
"And how she celebrated herself in bright colors? That influenced our palette. Inside, bold bright colors … including orange!"
First In Colorado
The architects are clear: Carla Madison is the only urban rec center in Colorado.
"Sure, there are gyms in the city. But rec centers with all the a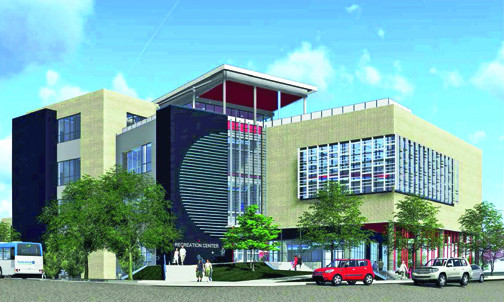 menities are always located in parks or suburban spaces," Bouck explained. "We were challenged: 'How to provide great spaces for the community and also convey the uniqueness of this setting?'"
With land at a premium, they stacked spaces vertically — and used large expanses of glass. "Imagine," chuckled Bouck. "You're playing basketball, you look out — and see city rooftops and also the Front Range!
"'It's Colorado!' we kept saying. So we put big garage doors on the exercise rooms … they roll up to let in fresh air."
Unique
Connecting to nearby "historic elements" — Sullivan Gateway, the Esplanade, East High School — was deemed equally important so the architects placed windows to afford long views down Colfax. "People might not be consciously aware they're taking in history, but it sinks in," said Bouck, who sat with his team on a garage roof to watch pedestrian flow down Colfax. "From East, 1200 kids move through this intersection every day at lunch. Now they can eat at our picnic tables, have fun on the bouldering wall …
"We've worked closely with East. They can use our pool. We can use their parking space."
That reciprocal partnership is just one of the center's unique features. Others include: 1) public art on the exterior, an LED screen lighting up according to inside activity; 2) a climbing wall on the outside of the building, starting at the 25' second level; 3) exercise rooms that face the mountains; 4) the best view of all — the rooftop deck — given over to the community.
Community
Efforts to give this "long underserved" community a center began in 2003. During subsequent years, as the city purchased the land and gathered the funds, the project was known as Central Denver Rec Center. Then a grassroots movement began: "Name It Carla." Signatures on petitions mounted. There was no opposition.
Now, Carla Madison Recreation Center will be an integral part of the East Colfax neighborhood, where businesses say they welcome the new center and the increased energy it will bring.
In a last interview, Madison said, "My only regret is that I won't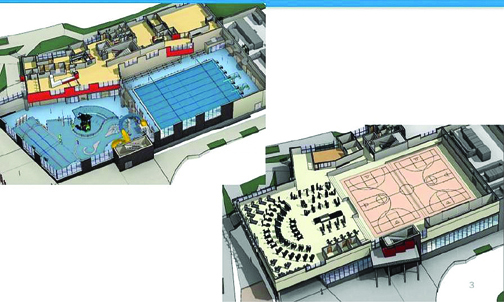 be able to finish the work I want to do."
But seeing as how Madison fought for the resurgence of Colfax — how she cared about art and the environment — with this new (art-filled, LEED Gold certified, community-friendly) center, not only her name will live on; her work and spirit will too.