by Ruthy Wexler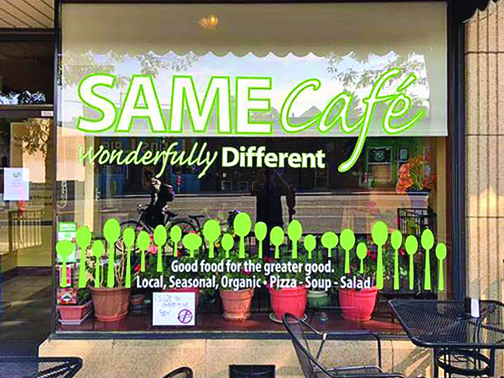 SAME Café's mission is feeding the hungry. Its name stands for So All May Eat. But the café itself resembles an elegant little bistro, complete with outside dining.
Nothing about SAME Café, at 2023 E. Colfax, says "homeless" or "charity." That's the uniqueness of this restaurant, where Cherry Creek residents, suburban folk, busy professionals — and people down on their luck — all get welcomed and well-fed.
Uniquely Different
I've ordered lunch, it looks delicious — but I stand confused. No prices listed, no cash register in sight.
How do I pay? I ask.
"You pay what you want," smiles the girl at the counter.
After devouring the richly flavored soup (homemade vegetable stock, definitely) and relishing my pizza's contrasting bites of apple, kale and blue cheese, I wonder: How could a "donation based" restaurant serve such exquisite food — and survive?
The answer, says Executive Director Brad Reubendale, is community. "We have the greatest group of volunteers and customers, who are invested in our succes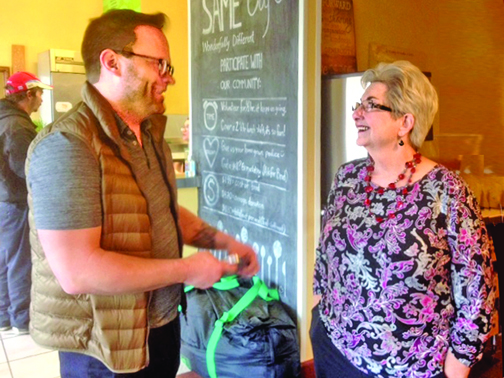 s."
More and more groups now use the café for meetings. Increasing numbers book it for private parties and events. The café's good intentions toward the community have brought win/win results.
Doing Well
Having supported local farmers, the café now receives so much donated produce, they only have to purchase basic food. They support local businesses — and a local businessman, and their landlord sets their rent below market value.
"What I see over and over, if you trust people to be helpful and intelligent, for the most part, they'll be that way," says Reubendale. "People on the poverty line pay a dollar for lunch. Others know this and give way more than the meal's worth"
"We eat here a lot," says Laura Mueller, lunching with fellow retired physician Danica Larson. "We want to support their mission. And the food is amazing. So healthy!"
Healthy food — where it all started.
History
In 2003, Brad and Libby Birky were at a crossroads. An IT consultant, he yearned to be a chef. But Birky wanted no part of the late-night restaurant lifestyle, so they researched other options. Both had volunteered at soup kitchens, but the disconnect between those who doled out the food and those who ate it didn't sit right. And the food was not healthy.
What if a soup kitchen served food so good that people with money chose to eat there, too?
There was one such restaurant, they discovered. After visiting One World in Salt Lake City, the Birkys became 100% committed. Banks refused to loan them money so they cashed in their IRAs. The city's red tape almost botched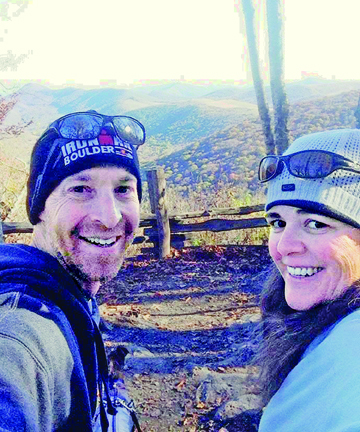 the project. But finally, on October 20, 2006, the SAME Café opened.
Something Incredible
The Birkys' original idea — giving everyone access to good, healthy food — remains the café's driving force.
People get interested in the café's mission. They return because of the food. Each day, two kinds of soup, two kinds of salad, two pizzas, and one cookie are offered. Natural-ingredient menus planned by an exuberant chef feature Strawberry Soup, Braised Brisket Stew, Roasted Mushroom and Quinoa Salad.
Tables for two line the walls, but the long table down the café's center affords an unusual opportunity: eating alongside someone from a very different life. "Something incredible happens when people who have millions sit down next to someone experiencing homelessness," reports Reubendale.
So Much Change
A volunteer describes when someone who's been living on the street comes in to eat. "They light up, like, 'All this nice stuff for me? I'm not looked down upon here?'"
"It's beautiful. No one brags about money here. No one's shamed if they don't have it."
People living below the poverty line are treated with as much dignity as a wealthy person, says Reubendale. "That's why we don't give handouts. If someone wants free food, we say, 'Here, please eat. Then we ask how they'd like to participate in our community. One hour of work pays for a meal.'
"When someone's ready, we have a great resource list. A computer they can use to research jobs or housing."
"So many lives have been changed here," Reubendale muses. "Not just the hungry. Rich people who needed purpose. Sick people who began eating healthy, then got well..."
People often asked the Birkys how to start a restaurant just like SAME. Now the couple is on a road trip, visiting the 50+ cafés across the country they inspired and mentored.
Talk about change.
Holiday Giving
The café has just created wooden circles that say SAME Café: One Free Lunch." Think of driving down Speer Boulevard with a bagful of these tokens to give out! Purchasing them provides two good works in one: giving to SAME Café's mission — and connecting a person in need with a service that could change their lives.
You can buy the tokens with a donation (the café suggests the full price of meals, around $12). Or email brad@soallmayeat.org, who will get the tokens to you.
The SAME Café is open Monday-Saturday, 11 a.m. to 2 p.m. For more information visit www.soallmayeat.org.