Highly Controversial Development May Yet Fail: Neighborhood Groups Rally
Johnson Admits To Rigged 'Courtesy Zoning' On Lowry Vista
by Glen Richardson
Amemorandum dated November 15, 2013 by Assistant Attorney General for Colorado Jennifer Robbins has thrown the entire massive Lowry Vista development into doubt. Eight years ago International Risk Group (IRG) got the City of Denver and Lowry Redevelopment Authority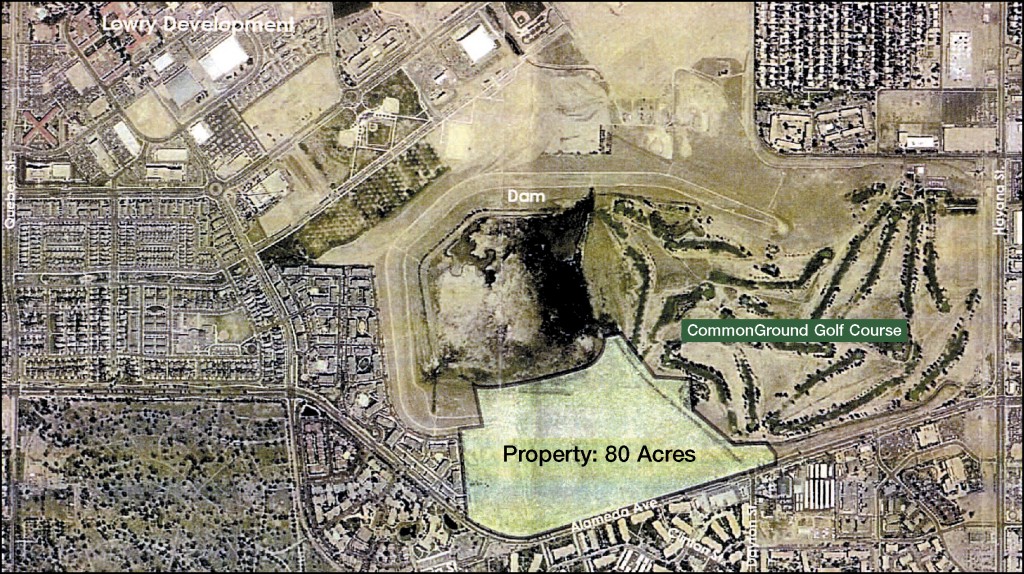 (LRA) to transfer to an IRG affiliate, IRG Redevelopment I, LLC (IRG-I), 80 acres of land for nothing that was supposed to be used only as a park or open space. Months later IRG sought and was eventually given the right to put a massive mixed use development on the property even though the land was supposed to be so contaminated that even watering the property would present a substantial risk to the public. Lowry Vista is located on East Alameda across from Windsor Gardens.
Open Space To Massive Mixed Use Development
The Denver City Council approved the rezoning of Lowry Vista in January 2010 by a 12 to 1 vote despite adamant and overwhelming opposition from citizen and neighborhood groups. The push for the development by Councilwoman Marcia Johnson in whose district the project was located resulted in such a outcry that Johnson did not run for reelection in 2011 and her actions regarding Lowry Vista permanently stained her reputation in many neighborhoods in the district and across the city.
AG Letter
The Attorney General's November 15 letter informed IRG that before the Colorado Department of Public Health and Environment (Colorado Health) could consider approval of preliminary development activities for Lowry Vista, IRG-I would need to get the Air Force to void its restriction on its original deed that Lowry Vista could only be used as "open space/non-irrigated park" and to get the Air Force to agree to remain liable for land fill contaminants even if the property was developed, an action which the Air Force previously refused to do.
On December 13, 2013, IRG-I wrote to the Air Force requesting such action in a very oblique manner. Experts indicate there is no reason for the Air Force to subject itself to the potential liability that would result from IRG-I's requests. They, however, also note that there is a reason why lobbyists in Washington, D.C. are paid millions to accomplish the seemingly impossible from the federal government on behalf of clients.
Moreover, insiders indicate that Mayor Michael Hancock is rumored to be strongly lobbying on behalf of IRG to do away with the open space restrictions. Hancock's lobbying actions are reportedly being kept sub rosa as he is already in political hot water for destroying open space at Hentzell Park for a development, all the while claiming he is a strong supporter of parks and open space.
IRG has been in an ongoing battle with Colorado Health over Lowry Vista ever since the Denver City Council approved the massive development. In a letter dated November 29, 2013, Ann K. Wei as "Counsel" for IRG-I argued that the term "open space/ non-irrigated park" was not defined and therefore IRG-I's developmental activities for a massive mixed-use development were somehow not inconsistent with the terms. In the letter IRG-I asserted Colorado Health's claims to the contrary were "overreaching, arbitrary and capricious." The Assistant Attorney General's November 15, 2013, letter basically shot down those claims on behalf of Colorado Health.
The Attorney General's Office appears to have questions concerning the trustworthiness of IRG-I. On November 18, 2013, Jennifer Robbins for the Attorney General wrote directly to Sam Rupe of the Air Force explaining what it was requiring and why, rather than having IRG act as an intermediary.
IRG-I's Sly Request
Brent Anderson's (CEO IRG-I) letter of request dated December 13, 2012, on behalf of IRG-I to the Air Force is a model of obliqueness. It never refers the fact that the Air Force placed a restrictive covenant of use to only "open space/non-irrigated park" nor does the cover letter note that IRG was asking the Air Force to remain on the hook for contaminant liability even when IRG was changing the use to a massive mixed use development. Instead Anderson simply asks that the Air Force should acknowledge that IRG-I's actions are consistent with the restrictive covenant.
Whether the Air Force will see through the IRG-I sly verbiage whereby a massive mixed use development becomes "consistent" with a restrictive covenant that the property be used only for "open space/non-irrigated park" is unclear and it is unknown what effect Mayor Hancock's apparent lobbying efforts will have.
The Rise And Fall Of Councilwoman Marcia Johnson
While the City Council's approval of the Lowry Vista project occurred January 25, 2012, its sordid circumstances reverberate still today. Prior to the Lowry Vista debacle Marcia Johnson was generally a well-respected councilwoman first elected in 2003 and re-elected in 2007 and best known for her work on Westerly Creek. After the Lowry Vista affair she has become loathed by many residents throughout the Cherry Creek Valley and her name synonymous with what is what wrong with the Denver City Council. Even though she was eligible to run for re-election in 2011 she declined to do so as neighborhood groups were out canvassing to find a candidate to oust her. She has, however, continued to assert that she did nothing unethical or wrong regarding Lowry Vista.
Secrets Uncovered
It was discovered by the Chronicle (October 2008) that in 2005 even before IRG got LRA to essentially give it 80 acres of prime land for nothing, a secret $1 million payment had been committed by IRG affiliate to Denver for acceptable zoning for the landfill. Opponents called the million dollar payment illegal contract zoning. Neighborhood groups also discovered that Johnson had taken various campaign contributions from IRG partnerships and affiliates which helped explain to them why it appeared that she was in the back pocket of the developer since 2006.
However, what particularly shocked neighborhood groups was that under the Denver City Council's unwritten practice of so called "courtesy zoning" all IRG had to do was get Johnson's acquiescence to its scheme and the rest of the council would turn a blind eye to what was occurring. The outrage by neighbor groups across the city over the Lowry Vista hearing before the City Council on January 25, 2010, continues to this day.
Larry Ambrose, president of the Sloan's Lake Neighborhood Association in northwest Denver and president of the Inter-Neighborhood Cooperation — the umbrella organization for all neighbor associations in Denver — several months back (December 15, 2013)wrote a guest commentary in The Denver Post titled "Why Developers Win Out In Denver." He stated: "The most notorious example of the dangers of courtesy zoning is displayed in the Lowry Vista Rezoning in 2009. Eighty-seven percent of the speakers, including every registered neighborhood organization in Southeast Denver, spoke against the plan and stayed at City Hall until 2 a.m. to hear the outcome. Despite the fact that the site was an unmitigated toxic waste dump and citizen testimony was overwhelmingly against the plan, the council obediently followed (by a vote of 12-1) the recommendation of Councilwoman Marcia Johnson to pass the 400,000-square-foot development, which remains vacant today. All that was necessary were the magic words uttered by one council member and the votes fell into place."
Johnson replied back in The Denver Post two weeks later (December 28, 2013) under the title "Process Was Ethical in Lowry Vista Rezoning" in which she declared:
"When looking at zoning change applications, I applied a bull's eye with those closest to the center having the most impact on my decision. This parcel is directly across from Windsor Gardens, a community of well over 3,000 people. Residents told me, in public meetings I held, that having a grocery store, the proposed anchor, and other shops just a shuttle stop away would be a huge help since some use public transportation when shopping. Those 3,000 voices were represented by one person in favor of the zoning change, at the public hearing."
Neighborhood Outrage
Neighborhood groups found her admissions in the article shocking. "Her problem," stated Mayfair neighborhood resident Trish Abbott, "is that she never was a particularly good liar. She appeared to be in the back pocket of the developer from the beginning. In her entire eight years on City Council she never gave a damn about Windsor Gardens or the retirees that live there. She apparently didn't even pay any attention at the hearing. The Board of Windsor Gardens before the hearing revoked its original support for the development. She really is one despicable human being."
In addition Johnson in her article did not dispute Ambrose's charge that the Denver City Council works on the unofficial policy of rigged "courtesy zoning" which means a developer only needs the support of the councilperson for the district where the development occurs to gain approval from the whole Denver City Council. As a result council members pay absolutely no attention to what the public has to say at public hearings. Johnson confessed "courtesy zoning" had occurred declaring in the article "My colleagues believed I had done my homework and concurred. This deference is hardily unethical."
Abbott responds, "Of course what she is admitting to in the article is extremely unethical if not outright illegal. What is the point of a public hearing in which citizens give testimony if the council pays no attention to it? If all that happens is her fellow council members 'believe' she has 'done her homework' and the public be damned then the system totally falls apart. She did not testify or give admissible evidence. She admits that her fellow council members did not consider the five hours of public testimony but acted solely on the belief she had done her homework. This should make the entire Lowry Vista rezoning void. I am not sure that what she is admitting to in the article may not be criminal in nature. It's time an honest DA or the Colorado Attorney General look at what is going on at Denver zoning approval meetings and bring indictments where appropriate."