A Plea For A Bicycle-Friendly Denver
by Phil Kummer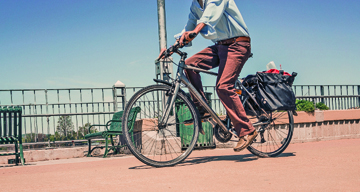 After a slow start to the biking season, due to very wet weather, bikers are being seen more and more in Denver and throughout the Metro area. As you ride around and talk with fellow bikers you can't help but notice that bikers, bike routes and bike transport are treated as second-class, second-rate citizens in Denver and the surrounding area.
Recently radio personality Mike Rosen wrote a column for The Denver Post about the comments of Denver City Council members Mary Beth Susman and Albus Brooks who propose to discourage driving in Denver and make it more convenient for bikers. He states that "bicyclists are junior partners" when it comes to transportation in Denver. Most bikers, though, would say that bike transport is barely a partner and more like a "Johnny come lately" and not given its due in the transportation scheme of things.
Bicycles are the transportation stepchild that nobody wants to commit to yet but are necessary to acknowledge because there are, and will be, more issues with moving a lot of people through cities. Rosen's point that the primary purpose of a road system is "to move a high volume of traffic and people quick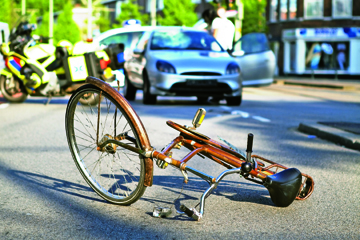 ly and efficiently…" is partially correct. It fails though to consider issues such as car/bicycle crashes, freedom of mobility, parking, congestion, costs involved in maintaining a street for an automobile vs. a bicycle, air pollution, pedestrian safety, safety in general and neighborhoods.
As far as being efficient, it seems odd that one would consider commuting by a vehicle with generally one occupant, the driver, and having 25 percent occupancy as being efficient. Rosen's article is a celebration of mindlessness and dogma that has 20/20 vision concerning what has worked for the past 60 years but has nothing to offer that might address the above issues.
The perception that bike transport is an unwanted stepchild is reinforced by the recent auditor's report that shows a serious underfunding of the Denver Moves plan. Denver Moves is a citywide plan approved in 2011 that "expands the vision for the non-motorized transportation and recreation system in Denver." Denver Bikes and the Mayor's Bicycle Advisory Committee are both doing yeoman's work as far as promoting and overseeing the construction of bike friendly infrastructure as specified by Denver Moves, yet it seems an uphill battle.
The plan "focuses on integrating the existing off-street and on-street networks to create safe, comfortable corridors that link neighborhoods, parks, employment centers, business districts, transit hubs … in all parts of Denver." Unfortunately, since 2013, the city has dedicated only $2.8 million for bike lanes and pedestrian-oriented projects from the capital improvements budget, a tiny fraction of the estimated overall cost of $119 million.
Although budget concerns are important, the bigger picture concerning bike transport is how to retrofit an entire city to produce a safe, convenient, efficient and effective way to travel that will be used by the multitudes. Denver, as most cities, is trying to fit a bike system into a preexisting system designed for cars, trucks and motorcycles so no matter how much sense it makes to promote bikes and other alternative modes of transportation it will always be difficult to retrofit a 60-year-old system to meet new and different transport goals.
Even though Vincent Carroll in a recent Denver Post column, sees this effort by the city as "a methodical, long-term effort to frustrate the use of the personal auto," it is actually an effort to counteract the years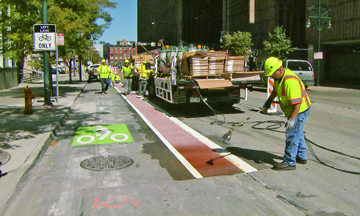 of neglect and disrespect that bike transport has suffered by a society that is in love with motor vehicles. Our government, Federal, State and local, has long supported low density housing and the transport systems designed for that lifestyle. In the marketplace of transport alternatives we've been given one realistic choice — get a car and be happy.
In planning to retrofit a bike system the biggest factor is safety and how comfortable riders feel on the road or bikeway. In 2013, Michael Andersen of People for Bikes in his article "Selling Biking: Perceived Safety, The Barrier That Still Matters," cited studies and surveys in Portland and San Francisco that indicate the vast majority of cyclists are concerned for their safety while on the road, and they especially feared a collision with an auto. On a national level 743 cyclists were killed and about 48,000 were injured in motor vehicle traffic crashes in 2013. The average age for those killed is 44 and of those injured the average is 32 so it would seem that is not a young and reckless group. Colorado suffered 12 biker fatalities in 2013.
Bike to Work Day, an event promoted by Bike Denver and the Mayor's Bike Advisory Committee, was held June 24 and drew approximately 32,800 bikers who rode an average of 9.2 miles one way to work. On a daily basis Denver has generally fewer than 7,000 bike commuters or about 2 percent of the total number of commuters. Although this is a small number, it is actually very significant given the difficulties and dangers that bikers have to put up with while riding on Denver streets.
This suggests that if Denver streets were actually biker friendly we could reduce the number of vehicles and congestion, make parking easier and spend less money on road maintenance. But the bigger question for the biking community is, "how do we make biking a general form of transportation and not just for a small number of hard core bikers?" Mobility freedom then should be promoted for all Denver citizens not just those who have a motor vehicle or who brave the mean streets on a bike.
An interesting solution to mobility freedom was highlighted in the April 2015 Glendale Cherry Creek Chronicle in a front page article by Heather Brecl, "The Sunny Side to An Eco-Friendly Revolution: the ELF." The article describes a new, high tech vehicle that is powered by both the rider with pedals and a solar powered motor. Neither Bike Denver nor the Mayor's Bicycle Advisory Committee have addressed new technologies such as three- or four-wheeled bicycles that are part human powered and part motor driven. The ELF, which is 9 feet long, over 4 feet wide and 5 feet tall, is larger than your standard two-wheeled bike. It is attractive as a commuter vehicle but there does not seem to be a place for it on Denver streets. This type of vehicle, which is technically a bike, has the potential to be a transportation game changer but will there be a place where the multitudes can use a vehicle such as this?
One solution that has yet to be discussed is to have bike only streets that welcome a variety of human powered or combo-powered bikes. A few strategic, long streets in Denver could be selected that would lend themselves to a different type of commuting and biking experience. Only then, will we as a city be able to say that we did our best to solve the transportation and parking issues that dog us every day.