By: Larry Ambrose
Raises Funds And Awareness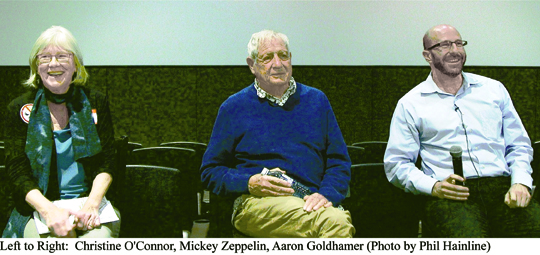 A few months ago on December 7, 2016, more than 100 people attended the showing of the movie Chinatown, at the Sie Film Center, in support of the lawsuit to stop the destruction of historic City Park Golf Course and the Globeville Landing Park. Both parks are part of the Platte to Park Hill Storm Drainage project (P2P) being done to enable expansion, undergrounding and partial cover of I-70 and the massive public/private development of the Platte Valley north of the River North Art District (RiNO).
The movie, set in 1930s Los Angeles, is really about the sinister development of the then agricultural San Fernando Valley. Jake Giddis (Jack Nicholson) stumbles upon a secret plan to divert water to dry up farm land to buy it cheap and use it for massive commercial and residential development.
The panel discussion that followed featured River North (Taxi) community based developer, Mickey Zeppelin; attorney Aaron Goldhamer; and citizen activist, Christine O'Connor. Zeppelin is gratified by the grassroots momentum building to stop the current plan for I-70 and the further degradation of the Globeville, Swansea and Elyria communities. He pointed out that Giddis, a private detective, tries to fight the evil of municipal corruption by himself without the benefit of community, which results in tragic consequences. Goldhamer outlined the lawsuit against the City of Denver challenging the use of City Park for the non-park use for storm water retention for I-70 and the Platte Valley and asked for community support for the effort. O'Connor outlined the history of the project and how it coincided with the decision to underground I-70 and expand the Stock Show.
Globeville Swansea Elyria: Victim Of I-70, Stepchildren To The Stock Show and River North
In the past decade, the north Denver neighborhood known as RiNo has been transformed from one filled with aging warehouses to an artist community — and the next hot spot for commercial development. Developers like Zeppelin Development and Industry built successful office and mixed-used projects, which attracted more development. See: Denver Post, RiNo project picked by HomeAdvisor for new Denver headquarters is delayed By Tamara Chuang December 19, 2016.
http://www. denverpost. com/2016/12 /19/rino-homeadvisor-denver-headquar ters-delayed/
"Chinatown" Secret Development Plan Or Just A Coincidence: The 2026 Winter Olympics
So, where do the dots connect to a schematic where our government leaders are using a massive public/private partnership to have the the biggest developers and the power elite slop copiously at the public trough? That too, was revealed at the Chinatown event on December 7. Could the Stock Show/I-70/River North be the location of Winter Olympic facilities in Denver and an Olympic Village as part of a bid for the 2026 games? At the end of the panel discussion, NW Denver Councilman Rafael Espinoza, rose to confirm, "All this is true. I was at a presentation recently where Kelly Leid [now head of development of the "National Western Stock Show Center"] offered up that the planned NWS facilities could be used to accommodate Winter Olympic events."
The Omnipresence Of Brownstein Hyatt Farber Schreck
Political and financial influence in Denver has been centered around an elite group of institutional power-brokers and lobbyists. Chief among them is the lawfirm of Brownstein Hyatt Farber Schreck (BHFS) whose principles, Norman Brownstein and Steve Farber, not only have exerted considerable control over Denver's municipal affairs but who also have been a major lobbying force in Washington, D.C.
BHFS's connection to John Hickenlooper goes back to the beginning of his Mayoral administration. Cole Finegan had been with BHFS for 10 years and a partner when he was picked to serve as Denver's City Attorney and Chief of Staff to Hickenlooper in 2003. In January 2015, Governor Hickenlooper hired Doug Friednash from BHFS as his Chief of Staff. A former state lawmaker, Friednash also served as Mayor Hancock's City Attorney before joining the Brownstein firm.
When shortly after Michael Hancock was first elected Mayor in 2011 and his telephone number was found in copies of phone records as a client of a local prostitution ring, BHFS was retained to manage what was a very touchy situation. Fortunately for the Mayor, the original records were stolen from the home of the head pimp shortly thereafter.
Although associates and clients of Norman Brownstein were at the center of his son Bo Brownstein's activities, the father escaped untainted. Bo was convicted of insider trading by the SEC, paid a $4. 7 million fine and served a year in prison. Farber is largely credited with bringing the Democratic National Convention to Denver in 2008. Escaping from the crashing financial markets, Steve Farber's sons Brent and Gregg, investment bankers in New York, moved to Denver in 2008. Their brother, Brad, a lawyer at BHFS, was to join them in the development firm, Elevation Development Group.
What's The Plan Behind The Plan?
There is a little known but very active plan to bring the 2026 Winter Olympics to Denver. How can it be that by playing a big role in the bigger plan behind the entire Stock Show/I-70/major population relocation and flood control scheme can this group of local politicians and developers stand to profit from the residents of Denver? Connecting the dots between the formation of an Olympics Exploratory Committee in 2011, the Committee's vote to put in a bid, the US Olympic Committee refusal to submit a bid in 2012, the need for any successful future bid to have City infrastructure for venues and Olympic athlete
housing, the creation of the Northwest Denver Cornerstone Collaborative, obtaining nearly a billion tax dollars, expanding the "Stock Show" development area to 250 acres and creating I-70 at the Stock Show in such a manner as to serve as a covered transportation station (ala Union Station) to the mountains and, voilá, you have quite an Olympic venue.
Colorado Voters Rebuke 1976 Winter Olympics: Cause For Caution?
In 1976, Colorado voters rejected the Winter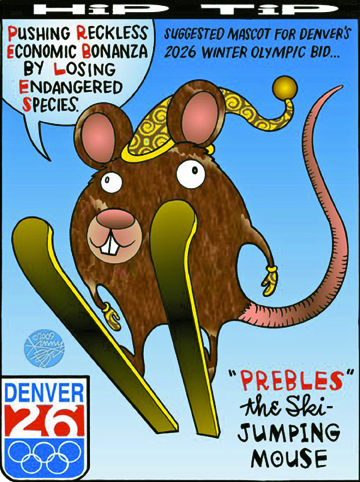 Olympics even after being chosen as the site by the US and International Olympic Committees. Although Hickenlooper and Hancock have not exactly hidden the effort to bid on the Winter Olympics again, it cannot be seen as an open and transparent process. One could describe the ongoing attempt to bring the games to Colorado as very low-key. But neither have our civic leaders involved revealed the connection to the North Platte Valley, keeping I-70 in place or the NWDCC and the Stock Show.
Denver Bids For The 2022 Winter Olympics
Created by Mayor Hancock, and Governor Hickenlooper, the Denver Olympic Bid Exploratory Committee featured such notable players as Steve Farber and Cole Finnegan as well as other downtown Denver operatives with ties to the Mayor and Governor, including: Tami Door, Kelly Brough, Elbra Wedgeworth, Richard Scharf and Anne Warhover. See: The Colorado Independent, Denver, Colorado, form official exploratory committee for 2022 Winter Olympics David O. Williams December 16, 2011.
http://www. coloradoindependent. com /108152/denver-colorado-form-official-exploratory-committee-for-2022-winter-olympics
The Recommendations in 2012 from the Operations Committee of the Exploratory Committee contains the following:
Colorado also starts in a strong position as it relates to the structural components necessary to bidding and hosting the Winter Games . . . . . . . For non-competition venues, there are seven total structures required. Of these, only the city and mountain athlete villages will require permanent construction. While these facilities will likely require some public financing to construct, they all represent opportunities for long-term legacy use. Examples of how other Olympic host cities have turned facilities into legacy opportunities include the Oval Vancouver constructed in 2010. This facility now serves as multi-use facility for the city and surrounding communities. Also, to accommodate the International Broadcast Center and Main Press Center, Vancouver 2010 expanded the existing convention center to triple its previous size . . . . . . . Additionally, Olympic villages can be used to showcase cutting edge design and construction techniques as well as to fulfill vital affordable housing needs after the Games are completed. See: The Denver Olympic Exploratory Committee Endorsement of the 2022 Winter Olympics June 27, 2012.
https://www. scribd.com/document/ 98553430/Denver-Olympic-Exploratory-Committee-Endorsement-of-2022-bid? ad_group=Online+Tracking+Link&cam paign=Skimbit%2C+Ltd.&content=10079 &irgwc=1&keyword=ft500noi&medium= affiliate&source=impactradius
In 2012, after due consideration the Exploratory Committee officially voted unanimously to put in a bid for 2022. No surprise there! Hancock and Hickenlooper sent out a joint statement:
"We want to thank the Denver Olympic Exploratory Committee for their thorough, objective work to evaluate a potential Olympic bid. It is great news to learn about the Committee's unanimous support of a bid and we deeply appreciate the research and expertise offered in the report. We will take due consideration of the report, which will inform our decisions on next steps. "
What Happened To The Bid For 2022?
However, not long after, in July 2012, the US Olympic Committee (USOC) dashed Denver's hopes of bidding for the 2022 Winter Games by announcing it would sit out the competition. Denver's Exploratory Committee was disbanded, with the intention of reviving the effort for a bid in 2019 for the 2026 games. Exploratory Committee member and 12-time Paralympic gold medalist Sarah Will of Edwards said, "whether it's 2026, 2030 or beyond, the Winter Olympics ultimately should be held in Colorado." See VailDaily, An Olympic bid in 2026? David O. Williams February 14, 2014.
Bill Marolt, champion Colorado skier, US Snowboard Assn. President and CEO and a member of the USOC Board, thinks Denver should bid. "I believe that the USOC and IOC are going to look for the best opportunities and their viable candidates, and I think Denver's a viable candidate."
However, Denver faced stiff competition in 2012 for the 2022 games from joint Olympic bidders in Reno-Lake Tahoe. Detrimental to a successful bid from Denver would be serious questions about infrastructure, facilities in the City and, of course, upgrading I-70.
Hancock And Hickenlooper: Enhancing Denver's Chances For 2026
So in January 2013, the Mayor announced a major, "envisioning" effort to "revitalize," 3000 acres and the neighborhoods of Globeville, Swansea and Elyria and appointed Robert Moses of Denver, Kelly Leid, a protege of Oakwood Homes developer, and major supporter of Hancock, Pat Hamill, to head it up. Almost $1 billion dollars was approved for infrastructure and improvements for the "Stock Show." See: Presentation North Denver Cornerstone Collaborative, Six Projects — One Vision by Kelly Leid August, 2015.
http://www.denverleadership.org/ wp-content/uploads/2015/08/Leid-Kelly.pdf
About the same time, in 2012, Hickenlooper ordered CDOT to study undergrounding I-70 through the Stock Show area in order to build a $2 billion partial cover over the freeway to connect the Stock Show area to the Coliseum and RiNO. As plans for both massive infrastructure projects progressed, it became clear that storm run-off flooding would put a "damper " on all of these projects. Thus was born the Inter-Governmental Agreement between the City and CDOT to charge the citizens of Denver more than $400 million to enable the "vision."
Do the residents of Globeville, Swansea and Elyria feel like all of this money and these projects are at all directed to "revitalize" their communities? Most do not. But what then could this $3. 5 billion plus plan be all about? Few seemed to notice when Jon Murray, city beat reporter for The Denver Post on June 22, 2016, wrote an article with the following headline. "Colorado group seeks lessons from Rio for potential Olympics bid: Delegation includes Denver Mayor Michael Hancock and Colorado Gov. John Hickenlooper."
Murray goes on to report, "Asked about a potential Denver bid for the winter Olympics, Hancock spokeswoman Jenna Espinoza sent this statement:
"Denver has made no secret of the fact that we are interested in pursuing the Winter Olympic Games, if the opportunity presented itself. Every city we visit, we learn from the challenges and opportunities of the area. From this discussion with the Rio host committee, we expect to learn from their bid process, and overall, hear about their approaches to event hosting." See: "Colorado group seeks lessons from Rio for potential Olympics bid: Delegation includes Denver Mayor Michael Hancock and Colorado Gov. John Hickenlooper," Jon Murray Denver Post, June 22, 2016.
Is it just a coincidence that in 2015 Steve Farber's sons, Elevation Development, purchased a full square block of land on the southern edge of the Stock Show's new development boundaries? With a $10 million land deal closed, a Denver developer is firing up another major RiNo project. Elevation Development Group bought 2. 5 acres near Downing and Blake streets last month for $9.6 million. Principal Brent Farber declined to comment on specifics but said the company plans to break ground on a significant mixed-use development in 2016. "There's a big story happening in RiNo right now, there's a lot going on in the area," he said. "One thing I loved about this specific site is it's right on the light rail stop — it 's just right off of the platform." Elevation's purchase includes the entire block bounded by 36th, Blake, Downing and Walnut streets and a separate parcel at the northeast corner of Downing and Walnut. Elevation Development, acting as Hub Development LLC, closed the deal on Sept. 17, city records show. See: BusinessDen With mixed-use plans developer buys RiNo lot for $9. 6M Burl Rolett October 1, 2015.
http://www.businessden.com/2015/ 10/01/with-mixed-use-plans-developer-buys-rino-lot-for-9-6m/
Be Here Then, Be Here Now
If only we had paid attention to Denver's most astute observer, artist and prophet, Kenny Be, way back in 2009. He knew this was coming and even came up with a mascot!