by Amy Springer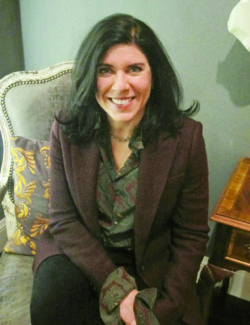 In a lot of ways, many mornings it feels as if our fine country has lost its collective mind. Between the name calling, the satirical "beheading" of the president (which was about as unfunny as the caricatures of Obama being lynched) and the Chinese Fire Drill at 1600 Pennsylvania Avenue, it has become increasingly more difficult to maintain one's sanity.
And so it was, on Memorial Day 2017, that the Internet lost its collective mind when an artist in New York decided to create a rudimentary dog and place it symbolically peeing on the leg of a statue in New York City.
To understand this reaction, context is required. After the stock market collapse of 1987, an artist named Arturo DiModica created a massive, shiny Charging Bull sculpture and placed it in front of the New York Stock Exchange. Although it was initially removed, the city later reinstalled it near Wall Street in the Financial District. If you've visited the city, it's hard to miss the 11 foot, three-ton monument, and it has withstood the test of time to become a landmark in its own right.
On March 7 of this year, the four-foot "Fearless Girl" statue was placed defiantly in front of Charging Bull, purportedly as an homage to "International Women's Day." Kristen Visbal was the artist who created the girl, but it was commissioned by State Street Global Advisors, a massive, multi-trillion-dollar asset management company. Unlike Charging Bull, Fearless Girl was not merely the expression of its artist, but rather instead the brainchild of State Street's own advertising agency.
The placement of Fearless Girl drew the ire of Mr. DiModica who claimed to the New York Post that its placement made him "sick." He immediately announced plans to sue State Street Global Advisors for trademark and copyright infringement. As reported by the New York Post on April 12, 2017, Mr. DiModica's attorneys asserted during a press conference that "the placement of the statue of the young girl in opposition to 'Charging Bull' has undermined the integrity [of] and modified the 'Charging Bull' … The 'Charging Bull' no longer carries a positive optimistic message. Rather it has been transformed into a negative force and a threat."
Enter Alex Gardega, a New York artist and now cause celebre who decided
to take
matters into his own hands on Memorial Day and, gasp, create an ugly dog sculpture to be placed peeing on the leg of Fearless Girl. Quelle Horreur! Alex called the dog "Sketchy Dog," admitting that it was not intended to be a thing of beauty, but rather a statement of artistic expression.
In the interest of full disclosure, Alex Gardega is a personal friend of the family and we own many of his works. We know him as a quirky starving artist, but incredibly adept at self-promotion. Exhibit A: Alex's dog sculpture quickly made both the national news (CBS, NBC, New York
Times, Washington Post, Daily Best, etc.) and international news (Daily Mail UK). It was featured prominently on blogs and social media, and Alex used the exposure to make a point about political sensitivity and artistic expression, both of which I believe bear repeating here. Most of Alex's actions speak louder than his words, so in some ways I may be ascribing unintended motives to Mr. Gardega, but knowing hi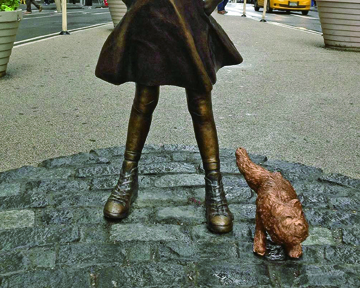 m as I do, I'm sure he'd be ok indulging me.
First, as one commentator deftly noted on social media, if Fearless Girl can "bogart" Charging Bull, then "Sketchy Dog" can surely "bogart" Fearless Girl. Following that lead, Bill Bramhall's May 31 cartoon for the New York Daily News portrayed a "Kicking Granny" sculpture lining up on Sketchy Dog which, in turn, is peeing on Fearless Girl while she is staring down Charging Bull. In terms of publicity, one can only think, "well-played Mr. Gardega." Alex claimed that he was motivated primarily by the plight of Mr. DiModica, presently suffering from cancer, and from this perspective, it's hard not to appreciate Mr. Gardega bringing this issue to the public's attention.
The second, more sticky issue involves the conclusion many have drawn that by placing the dog at the feet of Fearless Girl, Alex must be a misogynist and afraid of women. It is frankly shocking to google Mr. Gardega and observe the venom that has been publicly spewed on him on account of Sketchy Dog. I think it simultaneously exceeded his wildest expectations and scared the crap out of him. He recently acknowledged to me his dismay in receiving hate mail, including letters up three pages in length "as if I could read all that."
It is worth noting that right after the election last November, mainstream outlets such as Politico published articles to the effect that "the left" a/k/a liberals, "Created Trump." Per Rob Hoffman's November 20, 2016 article for Politico: "The general attitude to the left was: Disagree with us? You're probably racist, xenophobic, sexist, bigoted or all of the above." It was the clarion call of Yale University one year earlier when "outraged" students rallied against what they termed "offensive" Halloween costumes that some students found "culturally unaware and insensitive." This prompted one faculty member to express her frustration, questioning why costumes could not be obnoxious, inappropriate or even progressive.
The backlash was swift, with hundreds in the fragile student body condemning the Yale teacher's argument that free speech usurped the objective of protecting students from hurt feelings or personal offense. It was, in a word, ridiculous. When I was a kid trick-or treating in Denver, if it was warm I was a belly-dancer and if it was cold, I was a gypsy (a/k/a belly-dancer with a turtleneck). I shudder to think of the uproar this would have created today.
It is not beyond the realm of possibility that this over-sensitivity and downright self-righteousness that is often affiliated with "liberalism" set in motion the forces leading to the election of Donald J. Trump and the overall view that liberals are elitist, unable to take a joke and overly judgmental. Mr. Gardega's Sketchy Dog peeing on the leg of Fearless Girl keeps this cautionary tale alive.
I hate to blow the ending, but Alex is neither a misogynIST nor anti-feminIST. He is an artIST and a friend, trying to make a living and call attention to his craft. Love him or hate him, this type of hysterical vilification evidences that lessons still have not been learned, and that mistakes in judgment will likely continue, even with the knowledge of how catastrophic and disastrous the result.