by Mark Smiley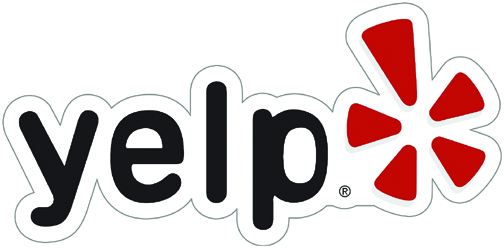 Yelp, founded in 2004, is a multinational corporation based in San Francisco that develops, hosts and markets Yelp.com which publishes reviews about local businesses. This crowd sourced review website has an estimated value of over $2.3 billion. This giant company has tactics that some business owners in the Cherry Creek Valley find manipulative and overly aggressive. Their sales techniques and the way reviews are posted under individual businesses have been called into question.
Yelp purportedly pays large sums to be one of the first sites to come up on any Google search of your business and a bad review can be devastating to your business. Last year four persons in California were sued by businesses for negative reviews on Yelp. Denver's Fox31 News reported that Footprint Floors asserted in court that a negative review in Yelp by a couple in Jefferson County caused the company to lose 167 projects and $625,000 in revenue over an eight-month period and they sued the couple.
Powerful Company
Critics assert that the potential for manipulation of negative and positive reviews is the key to the power, abuse and control that Yelp has.
"Yelp is the largest review company in the world, they're a powerful company," said Nick Peret, owner of Summa Media in Denver. "A powerful large company that is pretty much taking that power and to take advantage of the small businesses."
Yelp relies on posted online reviews and opinions from consumers who have bought product or visited a business such as a restaurant, shop, or local service. The common term from someone who posts multiple reviews is "Yelper." Yelp is the bulletin board and search engine to find reviews of nearby businesses.
Questionable Reviews Lead To Lawsuits
In general, companies from around the country claim that Yelp favors businesses that advertise with them by highlighting their search results and reviews. Some local business owners say Yelp account executives tried to persuade them to buy ads by offering to make negative reviews disappear. Yelp says it does nothing to manipulate reviews, aside from allowing advertisers to choose one review they would like to feature at the top of the page about their business.
Advertising packages with Yelp range in price. Some offer free advertising valued at $300 and then a plan of $300 per month after that. Others require an initial investment of $1,200 with a monthly cost of $600. Whatever the cost is, small businesses claim the sales calls to encourage participation are relentless. "Putting it mildly, we are overly contacted by their sales team about advertising," said David Sandusky, owner of Idea Chíc in Glendale. "The reputation they have had for a long time is manipulating reviews and challenging businesses to pay on the advertising after their promotion ends."
This manipulation was at the center of a 2010 lawsuit filed by multiple companies and it took four years to reach a decision. The lawsuit essentially alleged that the heavily funded startup runs an "extortion scheme" and has "unscrupulous sales practices" in place to generate revenue, in which the company's employees call businesses demanding monthly payments in the guise of advertising contracts, in exchange for removing or modifying negative reviews.
Judges tossed this lawsuit in 2014, writing that Yelp's threats of "economic harm" were, "at most, hard bargaining." In addition, more than 2,000 complaints about Yelp have also been filed with the Federal Trade Commission, which has scrutinized Yelp's ad-sales tactics and "recommendation" software, used to highlight reviews deemed the most useful to consumers.
In 2015, the FTC decided to close its inquiry without taking any action. After the decision, Yelp posted this response on their blog: "The FTC looked into our recommendation software, what we say to businesses about it, what our salespeople say about our advertising programs, and how we ensure that our employees are not able to manipulate the ratings and reviews that we display on our platform. After nearly a year of scrutiny, the FTC decided to close its investigation without taking further action. This marked the second time that the FTC had looked at our advertising practices and ended its inquiry without further action."
Local Businesses Speak Out
But how can this many business owners who have witnessed or been victimized by these tactics all be wrong? Is it simply the sophisticated software that filters out negative reviews for advertisers while at the same time, removes positive reviews for businesses who do not pay for advertising? These cases were first heard eight years ago and the conversation around Yelp's approach with small businesses is still relevant today. "It's too big of a mystery and there have been too many complaints to say there isn't something going on," said Peret.
One business owner refused to be named for fear of retaliation from Yelp and said: "I got a 5-star review from a gentleman I don't even know and this person had only 'Yelped' twice in his life so they decided that he wasn't a legitimate Yelper and they removed his 5-star review from my account. Had I paid them, they would have probably left it there. Somebody gave us 1- star that also only Yelped twice in his life and they didn't take that one off."
Reviews disappearing is not the only thing called into question. Where the reviews appear on a business's page is also questioned. Yelp has control of what order the reviews posted appear. "It's not chronological, it's however Yelp decides how they're going to put your reviews on there," said Hopi Mondale, owner of Salvage Restaurant in Aurora. "And it's very detrimental to the business because people do rely on social media and other apps to get their opinions on things."
Sean Kaiser, franchise owner of The Egg and I at Leetsdale and Holly in Denver, took it a step further: "They [Yelp] never came out and said that your strong reviews will be at the top and your bad reviews will be at the bottom. But it was implied." That was during
Yelp's courting of The Egg and I to become an advertiser. "I've spoken to Yelp about advertising and what the costs were around that and we seriously looked at it and we decided it just wasn't a good fit for us because of the demographic we appeal to," said Kaiser.
Advertising With Yelp
Whether advertising with Yelp produces revenue for businesses is difficult to determine. A recent report by Harvard Business School found that restaurants which advertised in Yelp increased their Yelp page views by 25%. Getting directions, browsing the company's website, and calling the restaurant increased by 18%, 9%, and 13% respectively. However, it was unclear whether it boosted revenues although online reviews increased by 5% which would seem to indicate success. Cherry Creek Valley businesses don't agree. "I have never once heard one of my prospects or clients say yes, we are getting clients from Yelp advertising," said Peret.
Peret continued, "My first experience with Yelp was working for a marketing company that worked with small businesses. I would talk to hundreds of small business owners. I would talk to all these people that Yelp would convince to advertise with them because of the nonstop phone calls and it never produced any results. Now you're spending hundreds of dollars every month on advertising and it's not producing any kind of return on investment."
Other business owners echo this sentiment. "I've had people in my business development group that have done some advertising with Yelp and really felt like they weren't getting their value out of the advertising they were putting into it," said Kaiser. "I know a lot of business owners and I have never heard anything positive from anybody after the free promotion [$300 worth of free advertising], said Sandusky.
Yelp's Technology Works Well
That is not to say that the technology and the reviews don't work or help. "As a concept, I think having review sites is beneficial to any business," said Kaiser.
"Typically, when people are looking at reviews, from the population, what they're looking at is the same complaints over and over again. That's when they get turned off to a business."
The dashboard for a business utilizing the free account is also helpful. After setting up his free account for Idea Chíc, Sandusky saw their first customer walk through the door within days. He is happy with the analytics.
Yelp also stands by its product and defends itself, "The reason millions of people around the world use Yelp every day to find great local businesses is because they trust the content. That's why we take so many steps to prevent gaming of our system and to protect consumers and business owners alike — and why we would never do anything to jeopardize that trust."
The "gaming of our system" is what is being called into question. "I've heard so many times from so many local business owners that there's a manipulated review," said Sandusky. "The business owners that have told me these sorts of stories say that these [posted reviews] aren't even from their customers so they can't track where this is coming from which is a challenging situation." In some instances, competitors post negative reviews which Yelp attempts to filter out.
Yelp has been under scrutiny for nearly a decade. An upcoming documentary film called Billion Dollar Bully about Yelp and its alleged business practices takes an investigative look into accusations that Yelp is "running a mob-like extortion racket against business owners who refuse, or can't afford to pay-to-play." The film is directed by Kaylie Milliken and produced by Prost Productions.
The 82-minute film was completed in December 2015 but has only been released to Kickstarter supporters and film industry professionals to determine the best path for distribution. When released, it is sure to stir the conversation even more.
Yelp has been accused of strong arm sales techniques, rigging the way reviews appear, and giving preferential treatment to those who advertise. Thus far, Yelp has done well in the court system. How they do in the court of opinion is another matter.