City Supplements Its Destruction Of Cherry Creek Retail With That Of South Broadway
by Mark Smiley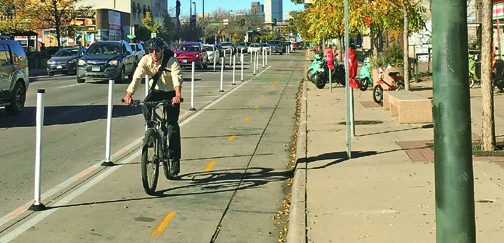 The City and County of Denver, fresh from creating chaos and consternation among Cherry Creek retail businesses by failing to plan and provide sufficient parking and traffic flow, has now set its sights on creative destruction of small businesses along South Broadway with the innovative use of bike lanes.
Le Grue's Flowers and Gifts has been a small business anchor on South Broadway for decades. Today, there is a sign in the front window that says "Can't find parking? Bike lane slowing your commute? Call City Council." Owner Alan Bemel says his customers have plenty of complaints, but laments, "I don't think City Council is listening."
Some small businesses like Le Grue's along this stretch of South Broadway are hurting and they blame Denver's new bike lane plan.
Test Project
Last August, Denver Public Works built a temporary, "test" two-way protected bike lane along a half-mile stretch of South Broadway. It runs from Bayaud to Virginia Avenue. It's part of the Denver Moves project, a plan to enhance bicycle facilities in the downtown area and throughout the city.
In order to build it, the City took away one vehicle traffic lane and installed a two-way protected bike lane next to the sidewalk. The City also had to sacrifice a significant number of on-street parking spaces to accommodate the bike lane. Denver Public Works spokeswoman Nancy Kuhn says there were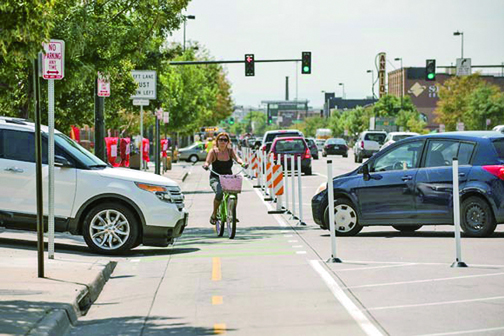 98 parking spaces along the half-mile stretch but now there are 79, a loss of 19 spots.
Businesses call it a "disaster," but somehow the City of Denver has declared the South Broadway bike lane a "success" and is moving forward with plans to design not only a permanent but significantly longer bike lane, along the main corridor.
"It's a nightmare," lamented one owner behind the counter of a South Broadway liquor store. "A nightmare," he repeated. "My customers can't find a place to park and neither can the delivery trucks." He says the loading zones are too small and delivery trucks have to endlessly circle the block, often forced to park in a through lane which further snarls traffic. He says the bikeway has definitely hurt his business.
Le Grue's owner Bemel agrees. He says, "Last month my sales tax revenues were the lowest in I don't know how many years. I attribute that to the bike lane."
He explains his walk-in business has all but disappeared and even loyal customers complain they can't find a place to park and therefore shop less at his establishment.
Simple Mathematics
Fat Willy, owner of Fat Willy's NBS Electronics on South Broadway predicted problems when the test bikeway was first installed. At the time, he said, "It's a simple matter of mathematics. If you're going to take space for a bike lane you have to take it away from cars." Recent posts on Fat Willy's Facebook page complain his fears have come true. One post says, "I don't know a single merchant who hasn't lost money since the stupid thing was forced on people who didn't want it and were never consulted in the first place." The post writes that quick access places like restaurants, coffee shops and liquor stores are affected the most with some businesses down as much as 40% because of the bike lane.
Other businesses have also encouraged frustrated shoppers to contact Denver City Council and ask them to get rid of the bike lane. But one business owner sighed saying, "But I don't think anyone is going to listen, I think they've made up their minds and it's a done deal."
It may well be. From the beginning, when Denver Public Works first installed the half-mile bike lane "test," city officials admitted that barring an unexpected safety issue, the ultimate plan was to remove one lane of vehicle traffic and install a permanent bike lane all the way from I-25 and South Broadway to Colfax Avenue downtown.
City Argument
The Denver Public Works website says the city's surveys and evaluations show the test bike lane dramatically reduced the number of people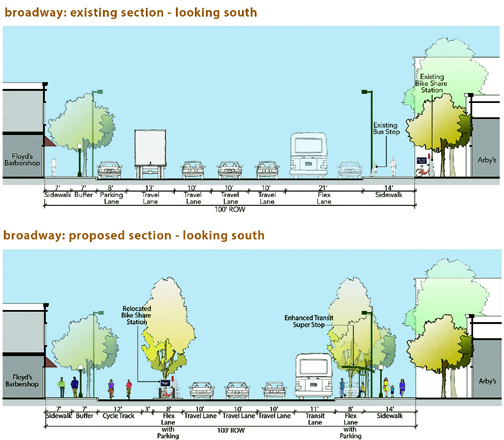 riding bicycles on the sidewalk and that makes cyclists and pedestrians feel safer.
The City further claims taking away one vehicle traffic lane had almost no impact on drive time. Before installation of the bikeway, peak period travel time from Colfax to I-25 was an average of 11 minutes, 50 seconds. After installation, the average travel time was 11 minutes, 59 seconds. An increase of just nine seconds.
The Public Works says its website survey also shows strong support for the bike lane and bicyclists and nearby residents we talked to say they do think it's a good idea.
Small Business Reply
But many small businesses and disgruntled city employees indicate that it is all of scam and a con by the City and County of Denver. They laugh that a website survey can be easily manipulated and the only persons that individuals in Public Works actually talk to are each other.
An individual with the City revealed (whose name was withheld due to his employment status and the sensitive nature of the project):
"Everyone knows Mayor Hancock and Planning Director Buchanan are more or less owned by the real estate developers who could care less about small retail businesses. The City is not planning for parking or traffic flow since that might negatively impact the approval of various projects.
"The undisclosed working model for the city is Saigon 1968 where most everyone got from point to point by bike or public transportation. You don't need to worry about parking or auto traffic if there aren't very many cars. What families with young kids do in mid-winter in Denver who knows, but this is a millennial oriented administration who doesn't like the concept of young families. Those people who can't go along with the program can all move to the stinking suburbs as far as the Administration is concerned."
"They are going to build bike lanes everywhere. If the Saigon '68 model doesn't work who cares? Buchanan will be back at his big ranch in Strasburg, while Hancock will be on a beach in South Florida with all of his ill-gotten gains."
The Public Works website says roughly 32,000 vehicles on average travel South Broadway between Bayaud and Virginia each day.
The city says over a three-month period, an average of 52 bikes used the bike lane each day.
Many of the small businesses along South Broadway question the City's decision to inconvenience tens of thousands of drivers and potential customers for the sake of a few dozen bicyclists. They suggest if the City really feels a bike lane is necessary, simply put it a block or two over on a side street instead of on a main corridor.
City Plans
The city plans to ask for proposals to design a permanent bike lane along South Broadway, from I-25 to Cherry Creek within the next several weeks. Part of the plan will also include transitioning the current peak-only bus lane to a 24-hour bus lane. Spokeswoman Nancy Kuhn says they know that parking is important and part of any design plan will take that into consideration.
The money is available to pay for the initial design plans, but the city does not have the money to actually build a permanent bikeway on South Broadway. The project could be part of a bond measure that voters will decide on this November.
Councilman Jolon Clark whose District 7 includes South Broadway stated to the Chronicle that he was aware of the parking concerns of small businesses in the area and he believes the final bikeway design will address them. Regarding the virtually empty bike lane he believes that usage of the lane will increase significantly once it is extended all the way to Cherry Creek.
Some South Broadway business owners hope voters pay attention the next election. A Fat Willy Facebook post puts it this way, "This is what happens when green-weenie global warming bozos get a bee in their bonnets and decide to do something that doesn't need to be done … Please try to remember what these fools have done to the small business people who can't fight back when the next election rolls around."