Denver City Council Votes 8-5 In Favor
by Lisa Marlin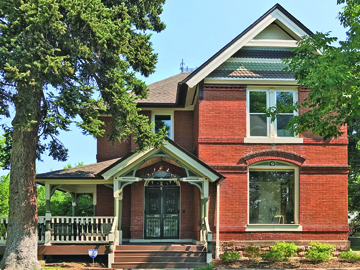 On a cool autumn Saturday morning in a northwest Denver neighborhood, children ran through leaves in their front yard, a young man walked a small dog down the sidewalk, and an older woman swept her front porch. If not for the modern clothing they wore and the kinds of cars parked along the curb, an outsider might think they'd stepped back in time because many of the houses here date back to the late 1800s and early 1900s. Most of the homes' exteriors have changed little over time and now they never will, at least not substantially.
An 8-5 vote by the Denver City Council in their September 25, 2017, meeting approved the designation of a Landmark Historic District for Preservation of Packard's Hill, making it the city's 53rd historic district. Voting in favor of the historic district were councilmembers Brooks, Espinoza, Clark, Kashmann, Kniech, López, New and Ortega. Councilmembers Black, Flynn, Gilmore, Herndon and Susman voted against.
Located near Highland's Square's trendy shops and restaurants, the area is approximately within the bounds of Lowell Boulevard and Osceola Street between 32nd and 35th Avenues in West Highland.
The designation ensures the preservation of 173 older homes within the district, known as contributing structures. Demolition of the homes and new builds, while not forbidden, are now strictly limited. A month following the vote, residents on both sides of the issue talked about its impact.

"It means that we can walk up and down our neighborhood and continue to enjoy the fabulous history and character and feel that it is being honored by the city of Denver and the neighbors," said Marie Benedix who has lived in the neighborhood 10 years. In 2015, Benedix began working with Historic Denver, in partnership with the West Highland Neighborhood Association (WHNA) that received a State Historical Fund grant to research and survey the neighborhood. She would garner 77 signatures of neighbors who supported the designation. She is relieved the ordinance passed.
But not everyone is pleased including Kevin O'Connell who bought a Victorian house here in 1995 with his wife, adding a contemporary home on an adjoining lot in 2003. "All the repairs you do on your house will cost more money," he said, explaining how the designation adds steps to the city review process for exterior home improvements and additions. Furthermore, he said, "If something happens to our non-contributing structure, we can't put it back the way it is."
This is why he organized a group earlier this year called Keep West Highland Free. The group collected 75 signatures to petition against the designation. "We did everything we could in our power as a grass roots organization," O'Connell said. "Unfortunately, the process is really stacked..."
The public hearing during the council meeting lasted five hours as 80 people representing both sides gave their views.
"With a split constituency, I have to ask my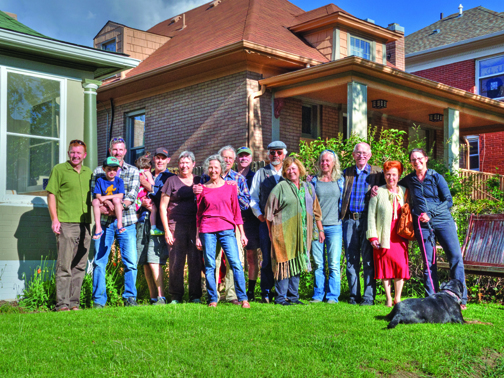 self, what are the consequences of this vote either way?" said Rafael Espinoza who represents Council District 1 where West Highland is located. He expressed surprise at the number of people in opposition, not having been given their petition until that night, but he felt that the criteria for historic designation had been met and it would be better overall for the area. "We're losing history at an alarming clip. In the other conversations we've had about where all the demolitions in Denver are occurring, over 80% of them are in District 1. I believe as the LPC [Land Planning Commission], that it should go through."
Also in favor was Wayne New of Council District 10. "I have the highest percentage of historic districts in the whole city. I have the high-end Country Club that loves their historic district as much as the moderate priced Alamo Placita. All I get is overwhelming support for their districts because it protects the character of their district. It does deter development that changes character."
Mary Beth Susman of Council District 5, known for being in favor of high density development in virtually all cases, voted against it citing that the opposition did not have equal access to city resources to prepare their case. "I did speak with Planning last year to ask 'let's open this up and take a look because I think both sides should have access to the same city resources.' I feel very strongly that compromise can be worked out."
Kevin Flynn of Council District 2 also voted against it. "Because of the deep division in the community, I really believe that this needs more consensus so I believe I have to oppose this."
A few weeks later, O'Connell said he is still taken back by the vote of the council. He is considering turning one of his homes into rental property, as some of his neighbors have told him they may do as well. "It took a lot of fight out of everyone. It lasted a long time and was a grinding process," he said. "It has really torn the neighborhood apart."
On the winning side, Benedix agreed that it was a lot of work, as did Marilyn Quinn from the WHNA design and preservation committee. She lives in the neighboring Ghost Historic District and helped prepare the application. "It has been all-consuming at times and we are very happy that the majority of council agreed with us," Quinn said. Her committee is planning to offer free design review consultations to help homeowners with the historic guidelines, such as knowing that they can paint their homes any color they choose, but window and door replacements require design review, and contributing structures may only be demolished if economic hardship is established at a public hearing of the Landmark Commission.
Benedix said she's generating ideas to make the history of Packard's Hill more available to people who come to visit the area. "It is important to know we have these connections and ties to the people who came before us," she said.
More information about the Packard's Hill Historic District and links to the historic guidelines can be found at www.historicdenver.org/packards-hill-proposed-historic-district/.